Writing the Declaration of Independence, 1776 by Jean Leon Gerome Ferris, 1932
Regular price

Sale price

$39.00
Archival Giclée Art Print
Certificate of Authenticity
One Tree One Print Commitment
Limited Edition of 100
Worldwide Shipping
Free UK shipping on all orders over £100
Collectible museum-grade fine art print, hand-printed in England and individually finished with a monogram emboss. Each sale directly supports the artisan. Listed dimensions include a white border for easy framing.
---
ABOUT THIS PRINT

This is an early twentieth-century depiction of one of the most famous episodes in American history. It frames the moment in June 1776 when Thomas Jefferson (standing) passed his draft of the Declaration of Independence to Benjamin Franklin and John Adams. We can see Franklin, who worked for so many years as a printer in Philadelphia, locked in concentration as he scans the text. He would have been the very first person to reads words that have subsequently become world famous – 'When in the Course of human events, it becomes necessary for one people to dissolve the political bands which have connected them with another …'. Even John Adams, who was not given to flattery, was 'delighted with [the text's] high tone, and the flights of oratory'. The final text would soon be adopted by Congress on 4 July 1776. – Peter Moore
Published: 1932 (reproduction)
Location: One of 78 scenes from the artist's series: The Pageant of a Nation
Artist: Jean Leon Gerome Ferris
Remaster: Joshua Barrett
Original Format: Photomechanical print
Commercial Use: ⇲ License this Image
PRINT CREDENTIALS

Presented on 310gsm Hahnemühle German Etching®; a traditional mould-made copperplate printing paper, characterised by its extraordinary velvety tactile feel and its fine, clearly defined felt structure.
ORIGINAL CAPTION

"Thomas Jefferson (right), Benjamin Franklin (left), and John Adams (center) meet at Jefferson's lodgings, on the corner of Seventh and High (Market) streets in Philadelphia, to review a draft of the Declaration of Independence."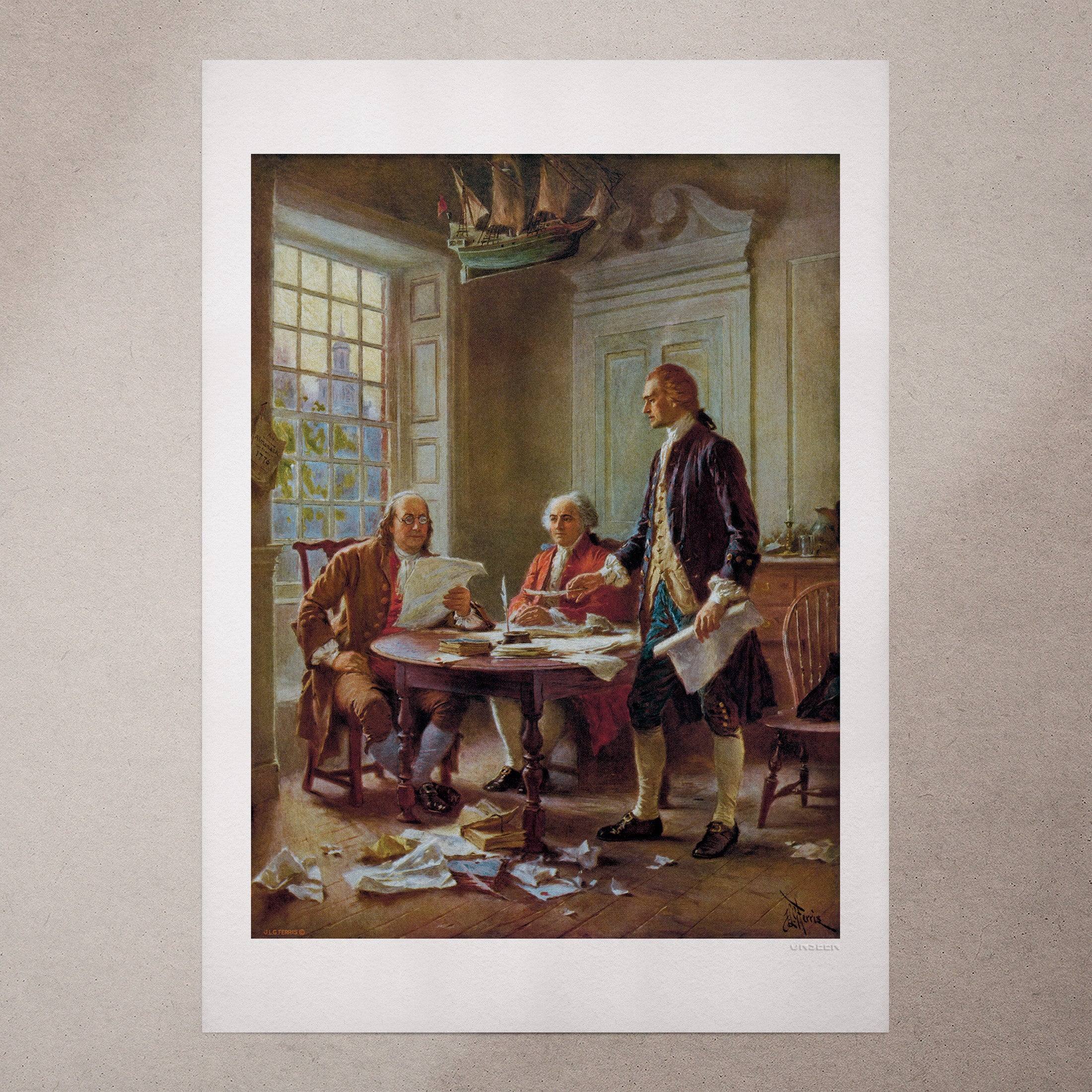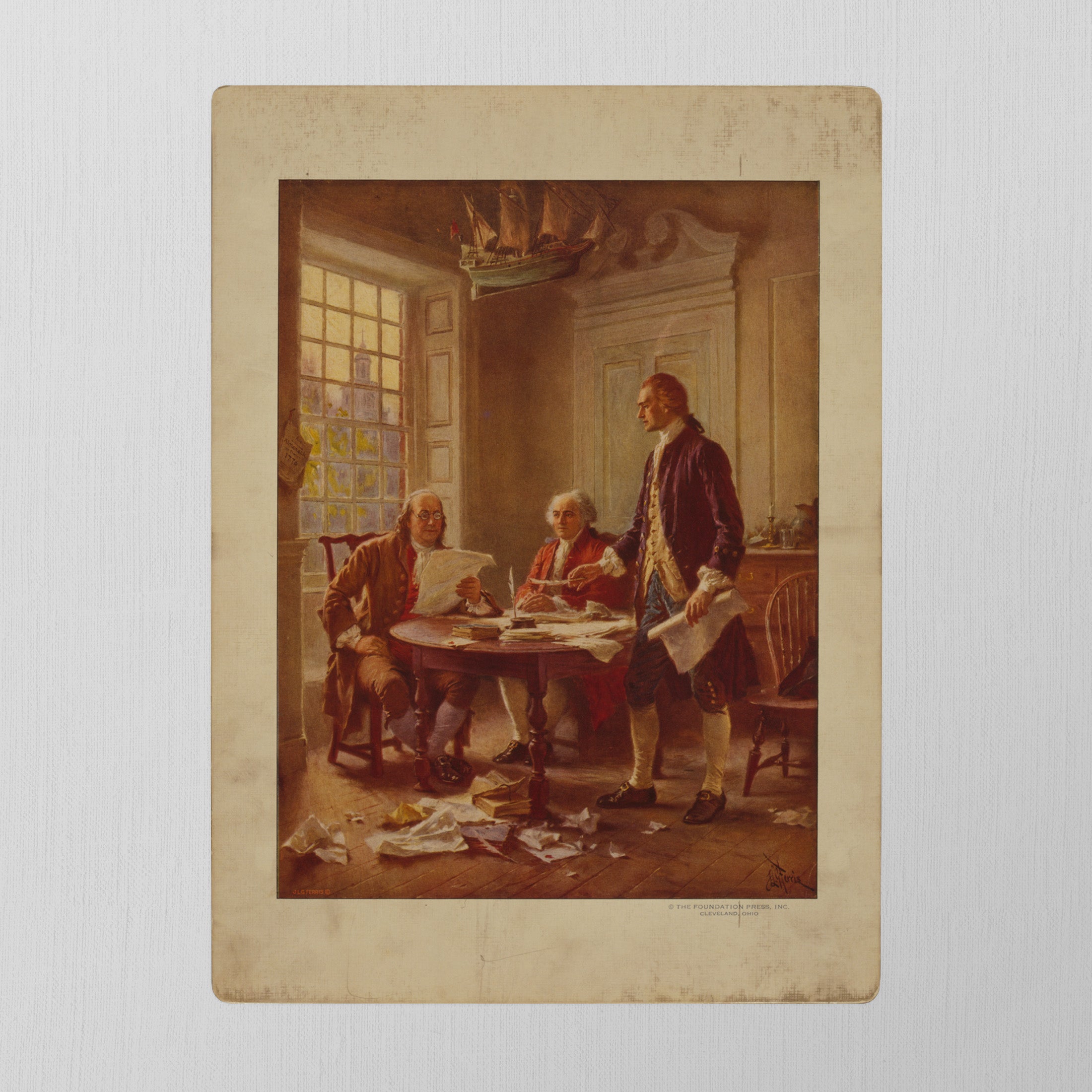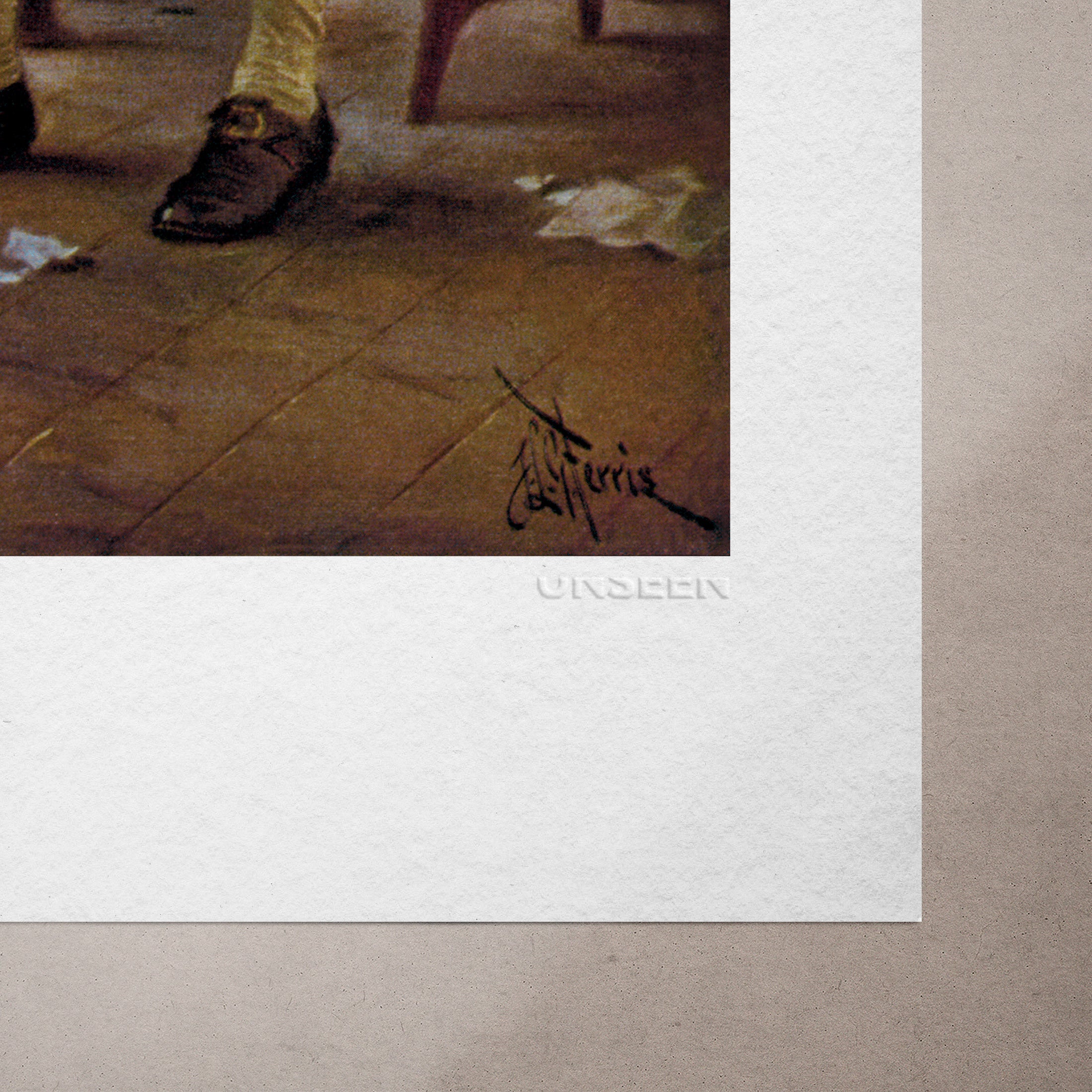 LIFE, LIBERTY & HAPPINESS
Part of a Limited Edition collaboration with author Peter Moore
To mark the release of his new book 'Life, Liberty, and the Pursuit of Happiness', bestselling historian Peter Moore has worked with us in curating a collection of fine-art prints inspired by the hidden roots of the Declaration of Independence, and has signed an exclusive Ex Libris edition of his book, only available through Unseen Histories.
EX LIBRIS EDITION
Life, Liberty, and the Pursuit of Happiness by Peter Moore [Signed Edition]
Hurry, only 4 items left in stock!
Regular price

Sale price

$33.00