Life, Liberty, and the Pursuit of Happiness by Peter Moore [Signed Edition]
Hurry, only 4 items left in stock!
Regular price

Sale price

$33.00
Hardback
Author Signed Bookplate
Limited Edition
Worldwide Shipping
Free UK shipping on all orders over £100
This Ex Libris Edition features a custom-designed book plate, individually signed and numbered by Peter Moore for Unseen Histories.
---
SUMMARY

Bestselling historian Peter Moore traces how Enlightenment ideas were exported from Britain and put into practice in America - where they became the most successful export of all time, the American Dream. 
'Life, Liberty, and the pursuit of Happiness' is the best-known phrase from the Declaration of Independence, one of the most important documents of the eighteenth century and the whole Enlightenment Age. Written by Thomas Jefferson, the principal author of the text, it is frequently evoked today as a shorthand for that idea we call the 'American Dream'. But this is a line with a surprising history. Rather than being uniquely American, the vision it encapsulates — of a free and happy world – owes a great deal to British thinkers too.
Centered on the life of Benjamin Franklin, featuring figures like the cultural giant Samuel Johnson, the ground-breaking historian Catharine Macaulay, the firebrand politician John Wilkes and revolutionary activist Thomas Paine, this book looks at the generation that preceded the Declaration in 1776. It takes us back to a vital moment in the foundation of the West, a time full of intent, confidence, and ideas. It tells a whole new story about the birth of the United States of America – and some of the key principles by which we live to this very day.
---
REVIEWS
[An] absorbing book… Moore has a keen eye for the sort of eloquent detail that enlivens biography, and he expertly evokes Franklin's transformation from proud artisan to member of a new American elite. He's particularly good on the quirkiness of Franklin's early adulthood… Moore [is] a crisp writer and adept at narrative sweep
Henry Hitchings, The Times
[An] engaging and thoroughly reader-friendly book… [Life, Liberty, and the Pursuit of Happiness] is about how a crazed, paranoid kind of political rhetoric was spread from the England of Wilkes to the America of Franklin and Paine, making rebellion possible. This part of the story is not just convincing but, to a modern reader, positively chilling
Noel Malcolm, Telegraph
DETAILS

Farrar, Straus and Giroux (June 27, 2023)
592 pages
978-0374600594
ABOUT THE AUTHOR

Peter Moore is a writer, journalist and lecturer. He teaches creative writing at the University of Oxford. His debut, Damn His Blood, reconstructed a rural murder in 1806. His second, The Weather Experiment, a New York Times 'Notable Book of the Year', traced early efforts to forecast the weather. Whilst, Endeavour, became a multiple book of the year and a Sunday Times bestseller. He presents a history podcast called Travels Through Time.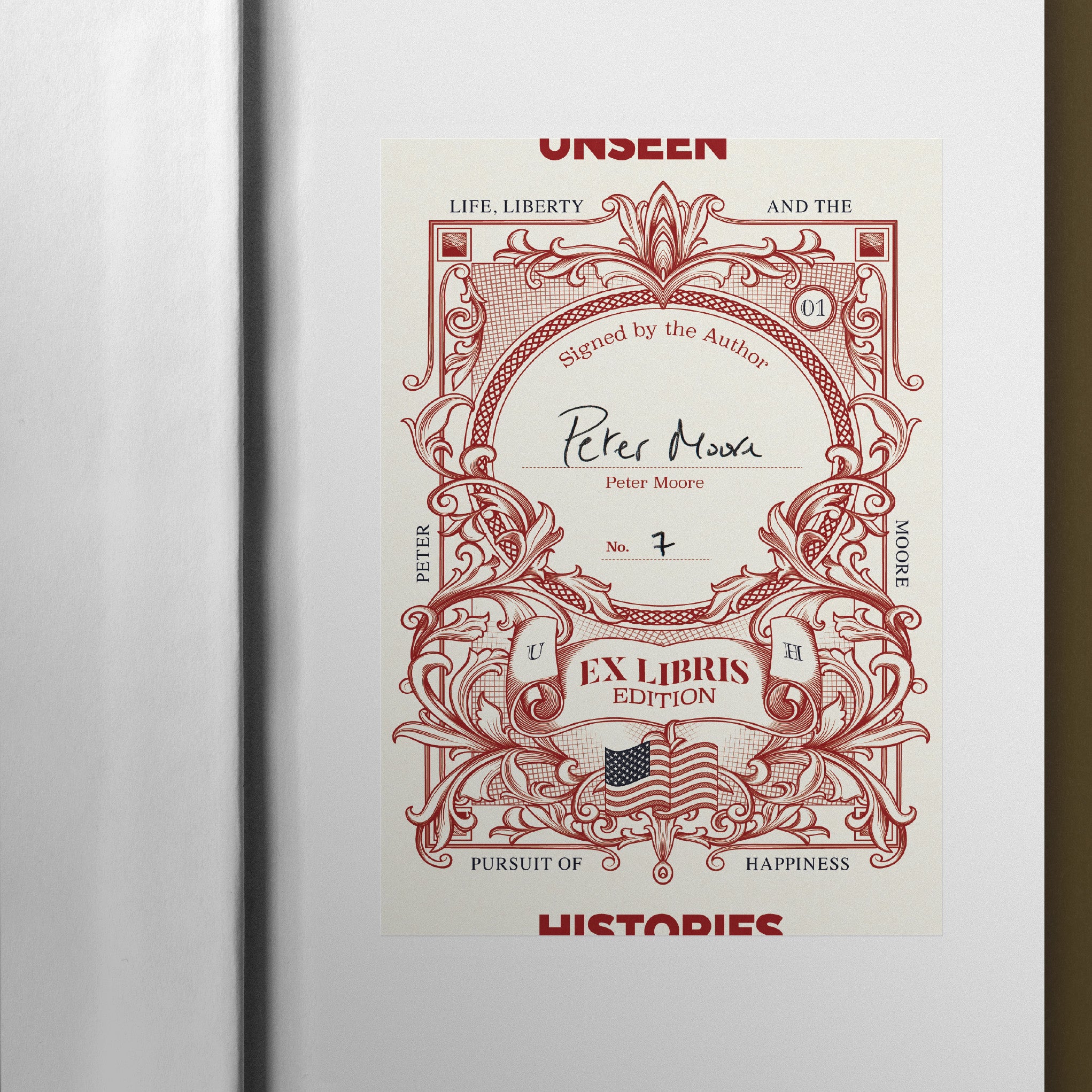 Scintillating

"What a scintillating read. Atmospheric yet analytical, well-paced yet deeply probing, Moore's book delivers striking new perspectives ... I loved it."

DAISY DUNN, author of Not Far From Brideshead

Absorbing

"A wealth of unexpected influences and connections, a trove of gripping stories, and a vibrant company of characters. A wonderfully absorbing and stimulating book."

SARAH BAKEWELL, author of At the Existentialist Café

Immersive

"A rich and immersive intellectual history ... Moore's fluid prose is infused with the 'boisterous' excitement of the era' ... This is a pleasure."

PUBLISHERS WEEKLY (starred review)
LIFE, LIBERTY & HAPPINESS
Part of a Limited Edition collaboration with author Peter Moore
To mark the release of his new book 'Life, Liberty, and the Pursuit of Happiness', bestselling historian Peter Moore has worked with us in curating a collection of fine-art prints inspired by the hidden roots of the Declaration of Independence, and has signed an exclusive Ex Libris edition of his book, only available through Unseen Histories.