Little Falls, 1941, Colorized
Regular price

Sale price

$46.00
Archival Giclée Art Print
Certificate of Authenticity
One Tree One Print Commitment
Open Edition
Worldwide Shipping
Free UK shipping on all orders over £100
Collectible museum-grade fine art print, hand-printed in England and individually finished with a monogram emboss. Each sale directly supports the artisan. Listed dimensions include a white border for easy framing.
---
ABOUT THIS PHOTOGRAPH

Collier's brilliant shot captures a car transport from the Eastern Auto Forwarding Co. from Buffalo, New York stopping over to fill up for gas. To the left of the Dodge COE (Cab Over Engine) truck in Eastern's distinctive livery is a Wayne 60 Series gas pump rolled out during the early 1930s, characterised by its arched top detail over the dispenser dials. The main pump on the right is a Bowser 575, a newer generation of computing gas pump introduced in 1937.
The transport is carrying two brand new Dodge W-Series trucks which came out in 1941, characterised by its distinctive art-deco-inspired grille. In many of the examples I've seen, the W-Series was painted in a two-tone colour scheme. My rendition samples the actual Dodge stock production colours from 1941. I began trying to map where each colour is, as the shades of grey are quite close together in the original.
After doing a few passes, I realised the transport wasn't looking right, so I remapped it out using Collier's other photograph from the same sequence, which showed the different areas of the truck more clearly. Richfield Oil Company from California operated until 1966 when it merged to form ARCO, which still operates over a thousand locations across the United States today. Petrol globes served as both an advertisement and a beacon to car owners who wished to refuel. The owner of the gas station would likely re-paint over the pump to match the brand colours of the gasoline provider to save money. – Jordan J. Lloyd
Taken: October, 1941
Location: Little Falls, New York, United States
Photographer: John Collier Jr.
Remaster & Colorization: Jordan J. Lloyd  
Original Format: Original negative nitrate
Commercial Use: ⇲ License this Image
---
RELATED PRINT
This photograph is also available as a ⇲ restored & remastered original print from our ⇲ ColorGraph Co. imprint.
PRINT CREDENTIALS

Presented on 315gsm Hahnemühle Photo Rag® Baryta; a pleasantly warm, pure cotton paper with subtle texture, providing excellent reproduction of colour and detail, deep blacks, and perfect contrasts.
ORIGINAL CAPTION

"Car transport filling up with gas at Little Falls, New York."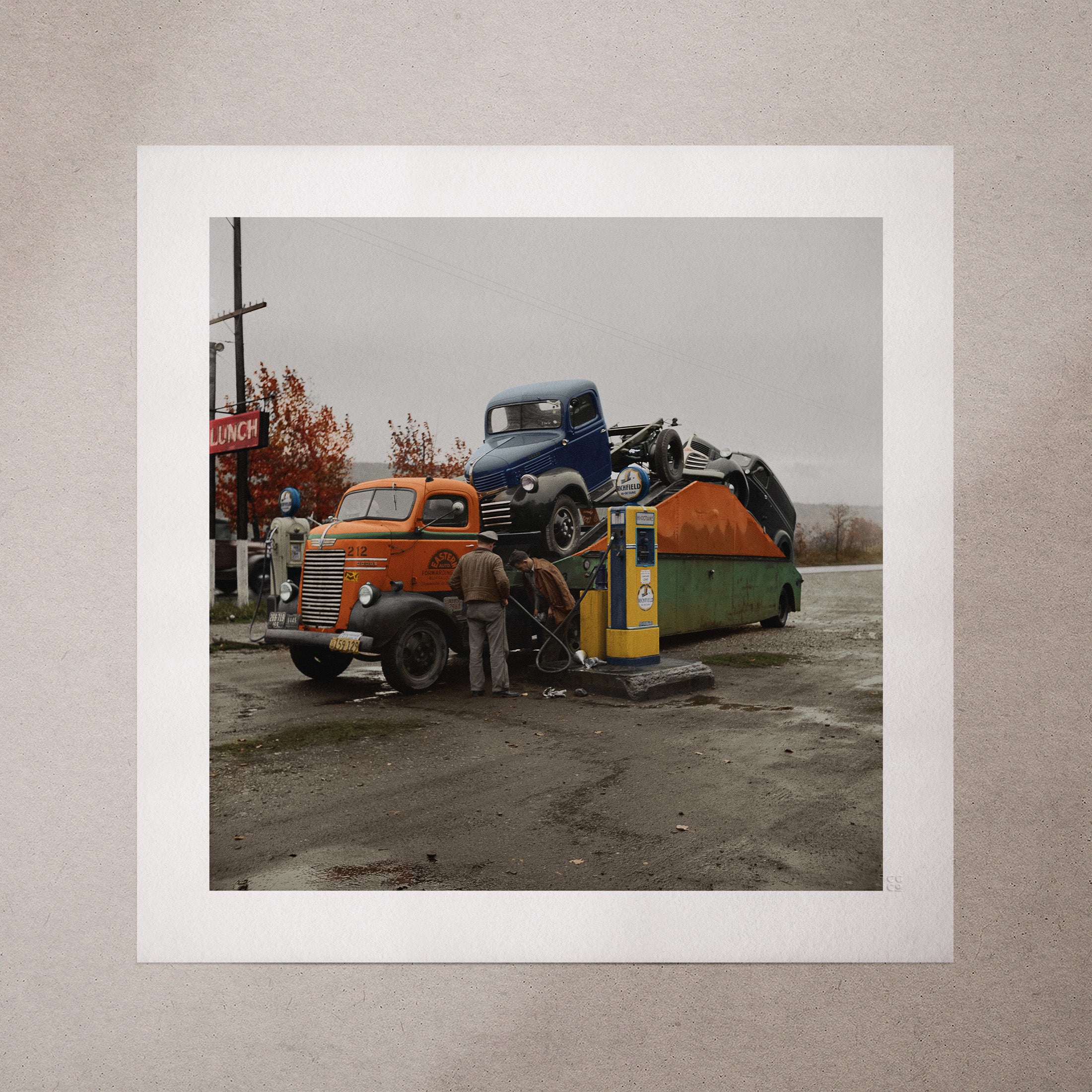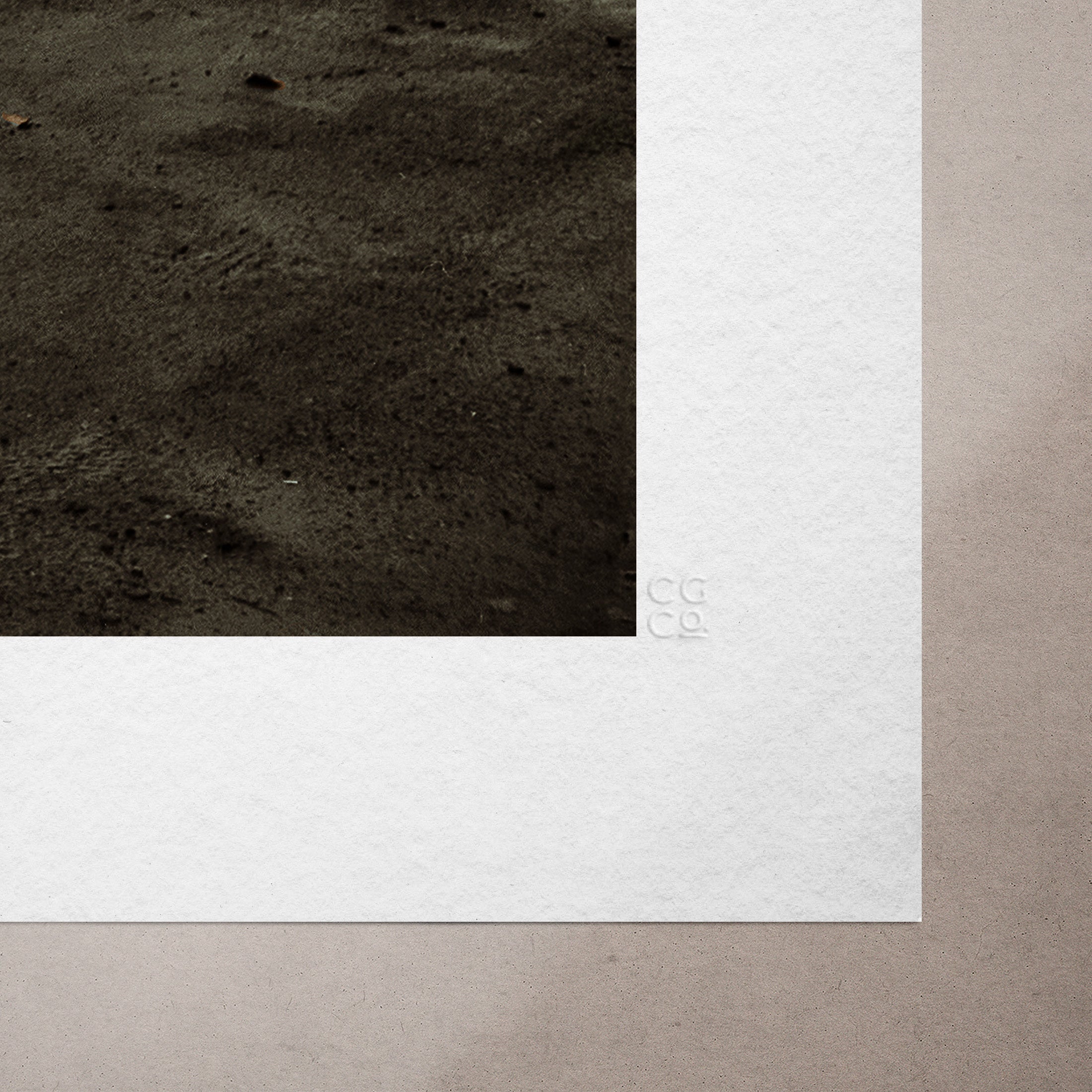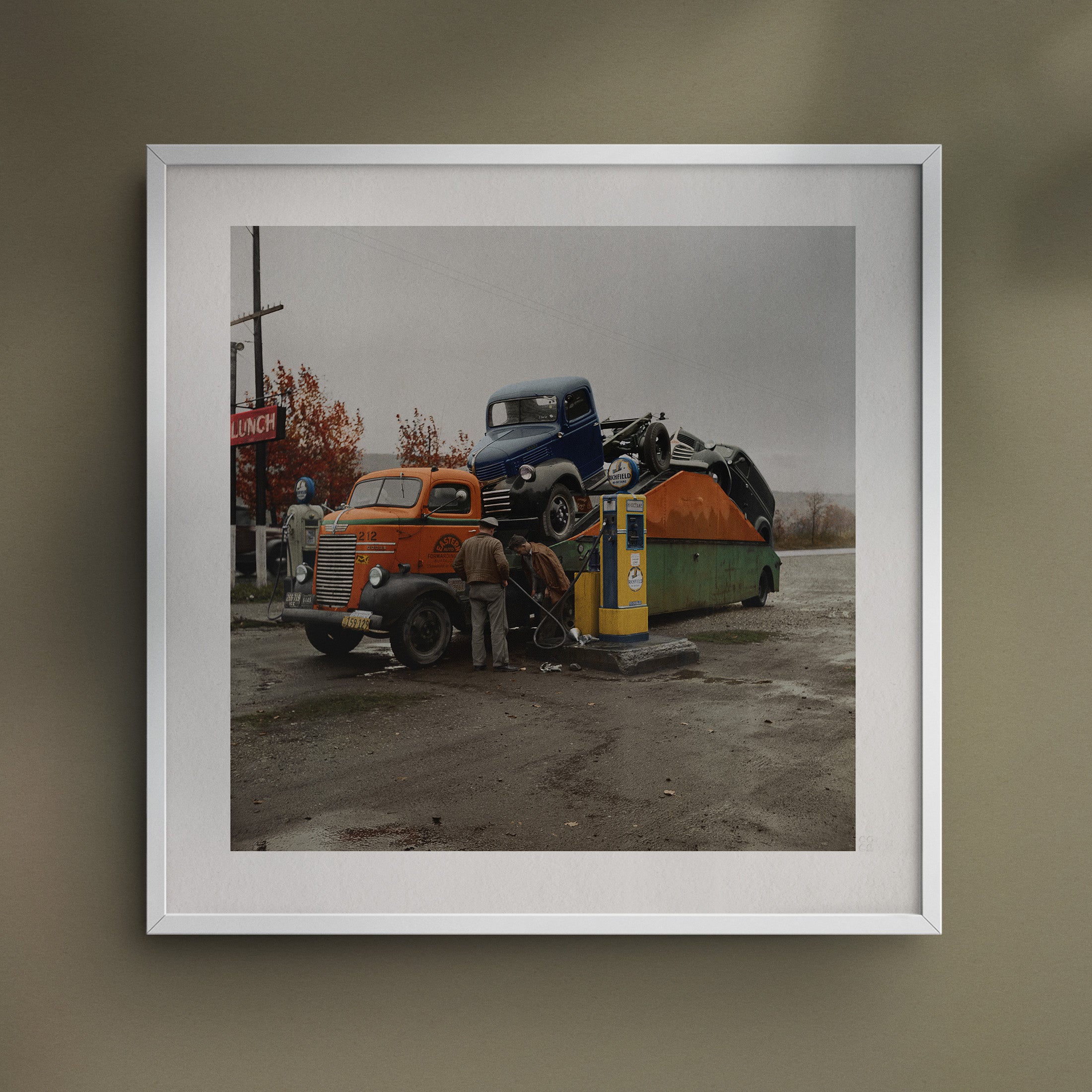 Print Sizes
| | | |
| --- | --- | --- |
|   | cm | in |
| AO | 118.9 x 84.1 | 46.8 x 33.1 |
| A2 | 59.4 x 42.0 | 23.4 x 16.5 |
| A3 | 42.0 x 29.7 | 16.5 x 11.7 |
| A4 | 29.7 x 21.0 | 11.7 x 8.3 |
We honour the past by restoring historical images to the same quality as the day they were created. To serve the artist's intent, we remaster, reconstruct, sharpen, colour-correct, colorize and enlarge their image with total devotion to historical authenticity. That makes your print a window to the past as it was. See for yourself.
Authenticity Assured

A Certificate of Authenticity marks every print as an original and genuine ColorGraph™.

Proudly Independent

We are proud to be an independent UK business sharing the stories hiding in images from the past.