Red Hot Frankfurters, 1942, Colorized
Regular price

Sale price

$46.00
Archival Giclée Art Print
Certificate of Authenticity
One Tree One Print Commitment
Open Edition
Worldwide Shipping
Free UK shipping on all orders over £100
Collectible museum-grade fine art print, hand-printed in England and individually finished with a monogram emboss. Each sale directly supports the artisan. Listed dimensions include a white border for easy framing.
---
ABOUT THIS PHOTOGRAPH

Pictured is Lee Ah Ding and Yee Chee Ching by a Red Hot Frankfurters stall, trying American street food for the first time. The pair are the first Chinese seamen to be granted shore leave in New York City during World War II. Lee, left, refused a Red Hot Frankfurter, but drank the Pepsi Cola. It would be another forty years before Pepsi would be introduced to China, and remains one of the best-selling drinks in the world. Bob's Cola, a brand-new soda manufacturer, lasted less than 20 years, closing in 1955. Hot dogs are still a big seller in New York. – Jordan J. Lloyd
Taken: September, 1942
Location: New York, United States
Photographer: Edward Gruber
Remaster & Colorization: Jordan J. Lloyd
Original Format: Negative nitrate
Commercial Use: ⇲ License this Image
---
RELATED PRINT
This photograph is also available as a ⇲ restored & remastered black and white original print from our ⇲ Platinum Series.
PRINT CREDENTIALS

Presented on 315gsm Hahnemühle Photo Rag® Baryta; a pleasantly warm, pure cotton paper with subtle texture, providing excellent reproduction of colour and detail, deep blacks, and perfect contrasts.
ORIGINAL CAPTION

"First Chinese seamen granted shore leave in wartime America. Chinese seamen on United Nations' vessels may now obtain shore leave in American ports. Heretofore, because of the large number of desertions by Chinese crew members, alien seamen of Chinese nationality have been detained on board when their ships touched American ports. As a result of conferences between representatives of the Chinese Embassy, the Recruitment and Manning Organization of War Shipping Administration, and the Immigration and Naturalization Service of the Department of Justice, Chinese seamen may now be granted shore leave if guarantees are given that they will not desert. Lee Ah Ding (left) and Yee Chee Ching, Chinese seamen from a British freighter, try typical American food for the first time. Yee took a hot dog in stride, but Lee refused to have anything to do with this strange foreign food. He did, however, drink a Coke with relish."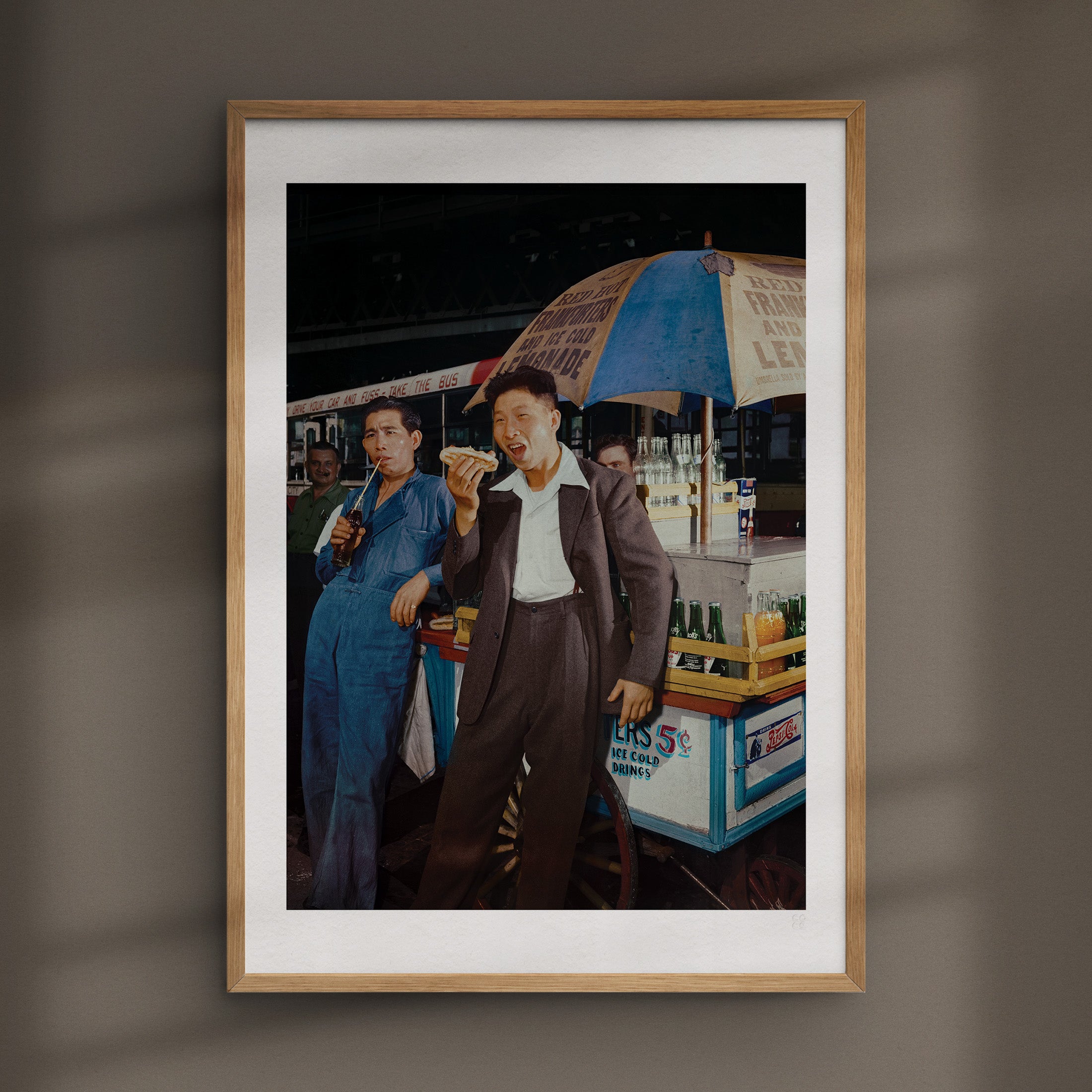 Print Sizes
| | | |
| --- | --- | --- |
|   | cm | in |
| AO | 118.9 x 84.1 | 46.8 x 33.1 |
| A2 | 59.4 x 42.0 | 23.4 x 16.5 |
| A3 | 42.0 x 29.7 | 16.5 x 11.7 |
| A4 | 29.7 x 21.0 | 11.7 x 8.3 |
We honour the past by restoring historical images to the same quality as the day they were created. To serve the artist's intent, we remaster, reconstruct, sharpen, colour-correct, colorize and enlarge their image with total devotion to historical authenticity. That makes your print a window to the past as it was. See for yourself.
Authenticity Assured

A Certificate of Authenticity marks every print as an original and genuine ColorGraph™.

Proudly Independent

We are proud to be an independent UK business sharing the stories hiding in images from the past.