Parliament Square, 1918, Colorized
Regular price

Sale price

$46.00
Archival Giclée Art Print
Certificate of Authenticity
One Tree One Print Commitment
Open Edition
Worldwide Shipping
Free UK shipping on all orders over £100
Collectible museum-grade fine art print, hand-printed in England and individually finished with a monogram emboss. Each sale directly supports the artisan. Listed dimensions include a white border for easy framing.
---
ABOUT THIS PHOTOGRAPH

The colorization is based on a glass plate gifted by the American Red Cross, depicting recovering U.S. soldiers sightseeing at Armistice. The group is posing in front of a London General Omnibus Company B-Type bus on the western side of Parliament Square: with Westminster Hall, the Palace of Westminster and Big Ben behind them.

This shot in particular was just spectacular and I knew I had to do it. It happily coincided with filming for France's national television station TF1, so we shot the segment on location between groups of (ironically French) tourists. The view remains largely unchanged though building works on the Palace of Westminster are still ongoing. I cannot imagine what it must have been like to have been in London on this day just over a hundred years ago. – Jordan J. Lloyd
Taken: November 1918
Location: Parliament Square, London, United Kingdom
Photographer: The American Red Cross
Remaster & Colorization: Jordan J. Lloyd  
Original Format: Glass plate
Commercial Use: ⇲ License this Image
---
RELATED PRINT
This photograph is also available as a ⇲ restored & remastered black and white original print from our ⇲ Platinum Series.
PRINT CREDENTIALS

Presented on 315gsm Hahnemühle Photo Rag® Baryta; a pleasantly warm, pure cotton paper with subtle texture, providing excellent reproduction of colour and detail, deep blacks, and perfect contrasts.
ORIGINAL CAPTION

"[Big Ben, London, in background. Recovering U.S. Soldiers taken to see sights around London]"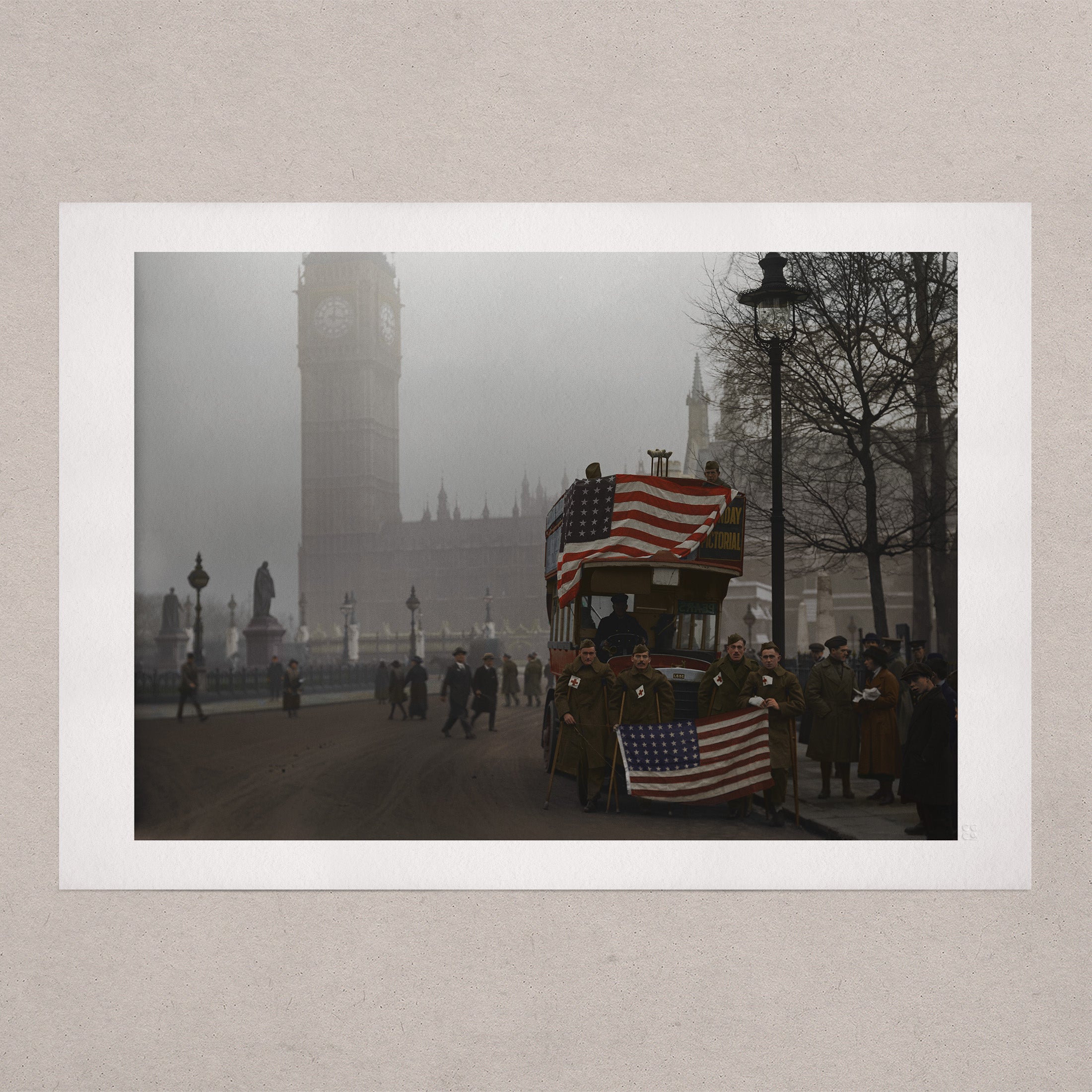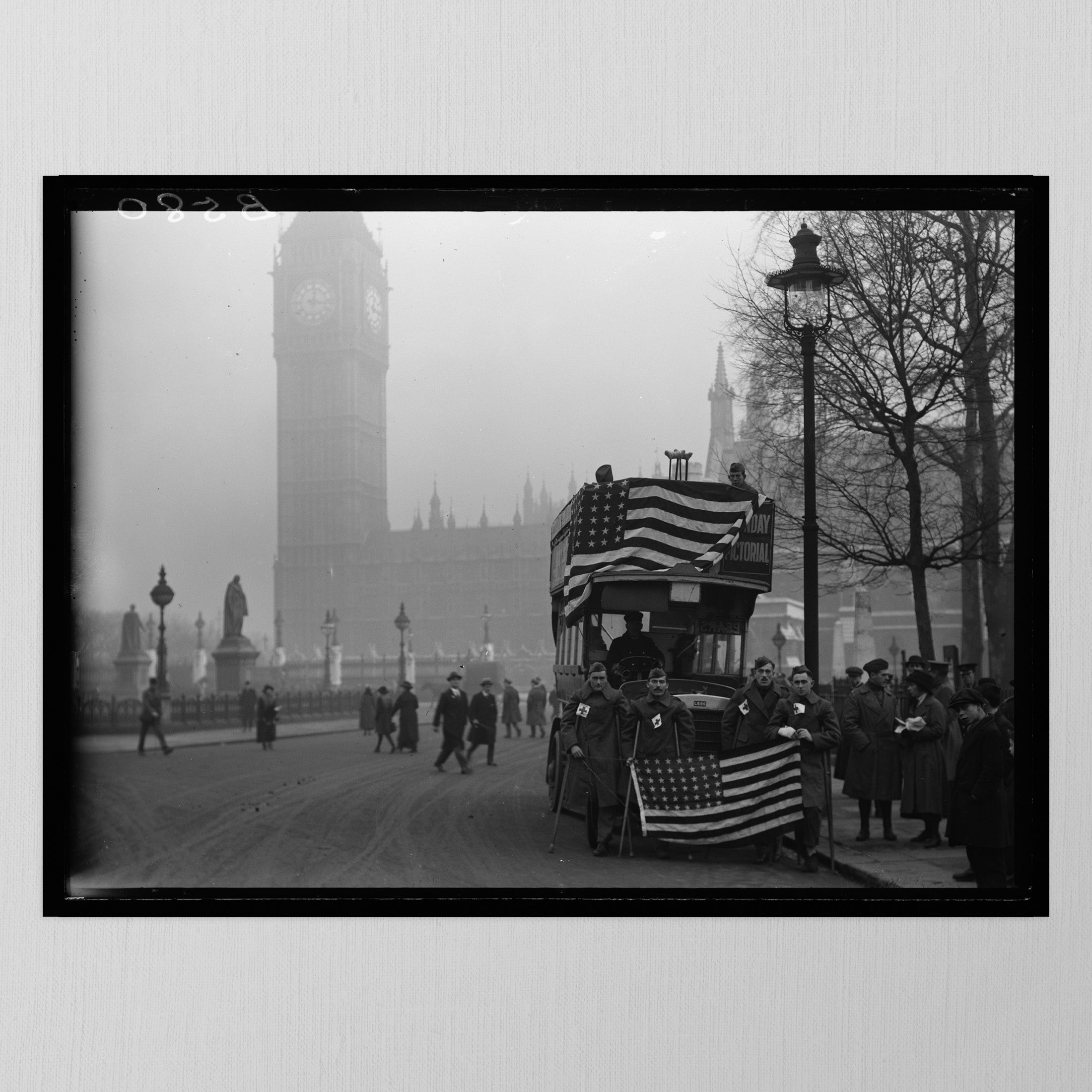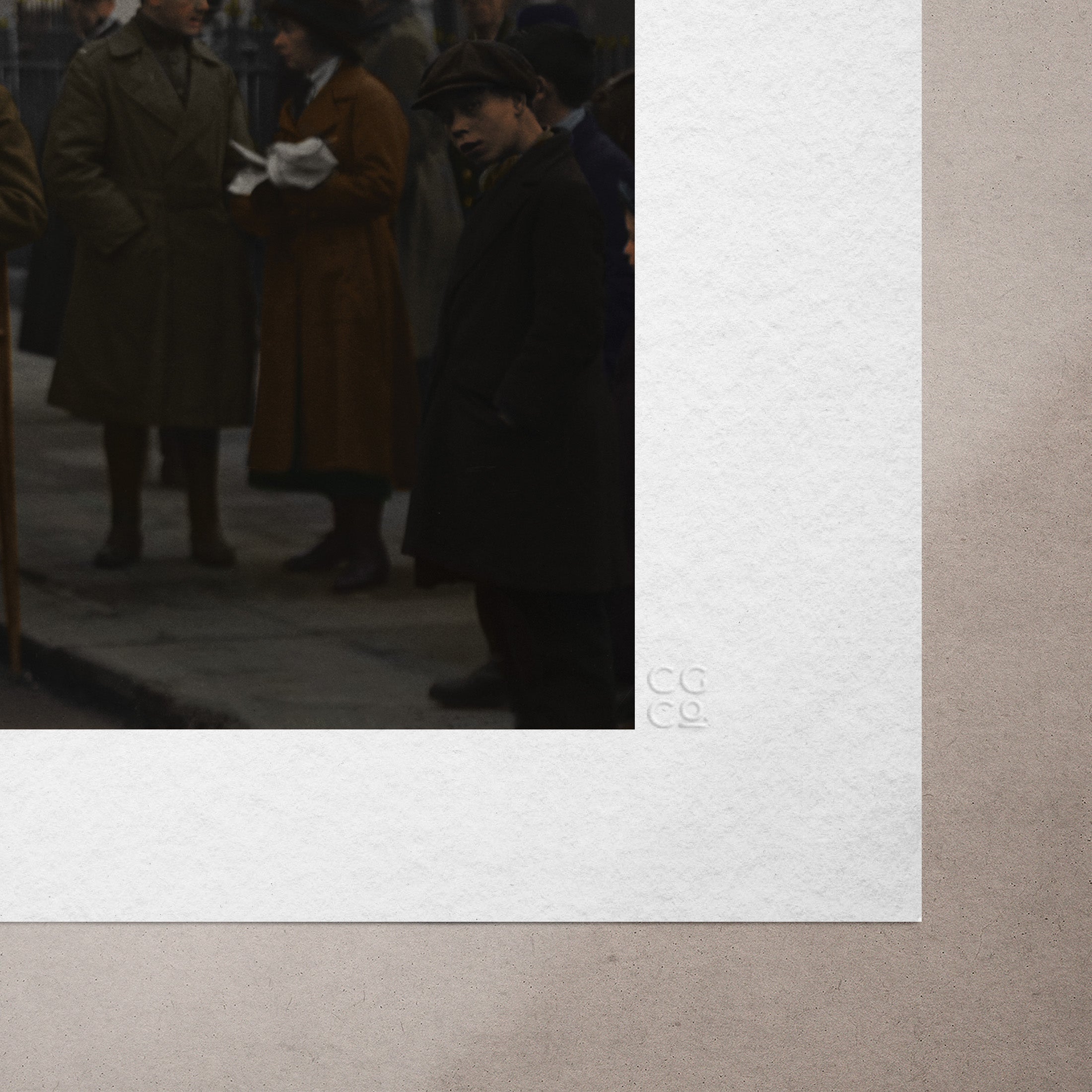 Print Sizes
| | | |
| --- | --- | --- |
|   | cm | in |
| AO | 118.9 x 84.1 | 46.8 x 33.1 |
| A2 | 59.4 x 42.0 | 23.4 x 16.5 |
| A3 | 42.0 x 29.7 | 16.5 x 11.7 |
| A4 | 29.7 x 21.0 | 11.7 x 8.3 |
We honour the past by restoring historical images to the same quality as the day they were created. To serve the artist's intent, we remaster, reconstruct, sharpen, colour-correct, colorize and enlarge their image with total devotion to historical authenticity. That makes your print a window to the past as it was. See for yourself.
Authenticity Assured

A Certificate of Authenticity marks every print as an original and genuine ColorGraph™.

Proudly Independent

We are proud to be an independent UK business sharing the stories hiding in images from the past.