Hopi Maidens by Edward S. Curtis, 1906
Regular price

Sale price

$39.00
Archival Giclée Art Print
Certificate of Authenticity
One Tree One Print Commitment
Open Edition
Worldwide Shipping
Free UK shipping on all orders over £100
Collectible museum-grade fine art print, hand-printed in England and individually finished with a monogram emboss. Each sale directly supports the artisan. Listed dimensions include a white border for easy framing.
---
ABOUT THIS PHOTOGRAPH

The Hopi – Hopituh Shi-nu-mu, or 'Peaceful People' – are a Native American tribe who have long inhabited a large area of America traditionally spanning from Arizona to New Mexico and into Colorado. These Hopi teenagers sitting on the rooftop are distinguished by both the white, red, and black Atu'u maiden's manta and the distinctive squash blossom whorl - a symbol of fertility achieved by wrapping their hair around moulds on each side of the head. All maidens of the Hopi would keep their Atu'u until they married, before the manta was handed down to another female member of the family. The tribe is one of the Pueblo peoples, who inhabit multi-storied apartments constructed from stone, mud, and adobe. The usage of ladders to access the dwellings was a form of security, preventing burglaries and other undesired guests as they had to be lowered down from the inside. – Jordan J. Lloyd
Taken: December 19th, 1906
Location: Unknown Pueblo, c. New Mexico, United States
Photographer: Edward S. Curtis
Remaster: Jordan J. Lloyd  
Original Format: Photographic Print
Commercial Use: ⇲ License this Image
---
RELATED PRINT
This photograph is also available as a ⇲ restored & remastered colorized original print from our ⇲ ColorGraph Co. Imprint.
PRINT CREDENTIALS

Presented on 315gsm Hahnemühle Photo Rag® Baryta; a pleasantly warm, pure cotton paper with subtle texture, providing excellent reproduction of colour and detail, deep blacks, and perfect contrasts.
ORIGINAL CAPTION

"On the housetop--Hopi: Photo shows women seated and standing on pueblo buildings."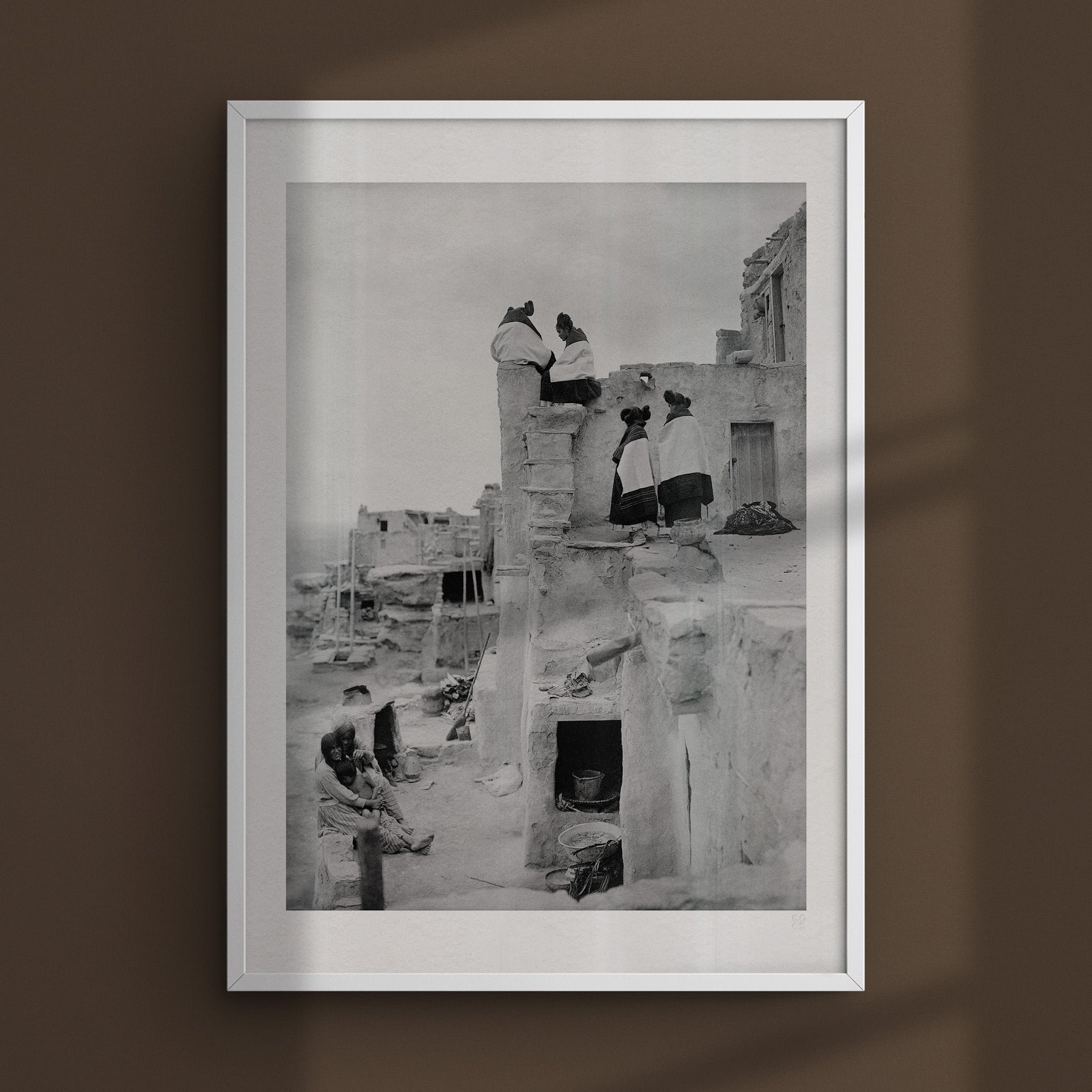 Print Sizes
| | | |
| --- | --- | --- |
|   | cm | in |
| AO | 118.9 x 84.1 | 46.8 x 33.1 |
| A2 | 59.4 x 42.0 | 23.4 x 16.5 |
| A3 | 42.0 x 29.7 | 16.5 x 11.7 |
| A4 | 29.7 x 21.0 | 11.7 x 8.3 |
Authenticity Assured

A Certificate of Authenticity marks every print as an original and genuine Platinum Series.

The Past Remastered

The Platinum Series features restored and remastered historical black and white images from world class archives.

Proudly Independent

We are proud to be an independent UK business sharing the stories hiding in images from the past.