Ford Anglia, 1963, Colorized
Regular price

Sale price

$46.00
Archival Giclée Art Print
Certificate of Authenticity
One Tree One Print Commitment
Open Edition
Worldwide Shipping
Free UK shipping on all orders over £100
Collectible museum-grade fine art print, hand-printed in England and individually finished with a monogram emboss. Each sale directly supports the artisan. Listed dimensions include a white border for easy framing.
---
ABOUT THIS PHOTOGRAPH

This print was produced exclusively for the podcast Travels Through Time, a mixture of serious history and playful parlour game.
In Britain, the winter of 1962/3 has lived long in the collective memory. A time of extraordinary cold, people today still remember that the snow that began on Boxing Day and did not thaw till Easter. In this tenderly-described, perceptive episode, the writer Juliet Nicolson takes us back more than half a century to those memorable months when the Peak District looked like the Alps. New waves of migrants were forging fresh identities in London's boroughs. New words were in the air – 'Groovy', 'Super' – and if this nascent culture was to be experienced at its purest, then it was to be experienced in the Cavern Club in Liverpool where the Beatles were poised to launch on their spectacular ascent to global fame. Nicolson guides us through Sylvia Plath's desperate plight in Primrose Hill and takes us to meet her magnificent English teacher Mrs Fitzgerald and to see the Beatles on the night that Please Please Me reached No.1. We end up at the House of Commons, to witness John Profumo astonishing moment of hubris as the despatch box. – Travels Through Time
Taken: February 1963
Location: Surrey, United Kingdom
Photographer: Sport & General
Remaster & Colorization: Jordan J. Lloyd  
Original Format: Negative
Commercial Use: ⇲ License this Image
---
RELATED PRINT
This photograph is also available as a ⇲ restored & remastered black and white original print from our ⇲ Platinum Series.
PRINT CREDENTIALS

Presented on 315gsm Hahnemühle Photo Rag® Baryta; a pleasantly warm, pure cotton paper with subtle texture, providing excellent reproduction of colour and detail, deep blacks, and perfect contrasts.
ORIGINAL CAPTION

"Snow Scenes in the south of England. 408205 Heavy drifts of noa come up to the roof of this passing caer in a country lane near Reigate, Surrey to-day (Sat). 2/2/63. Sport & General Press Agency Limited Fleet Street, London"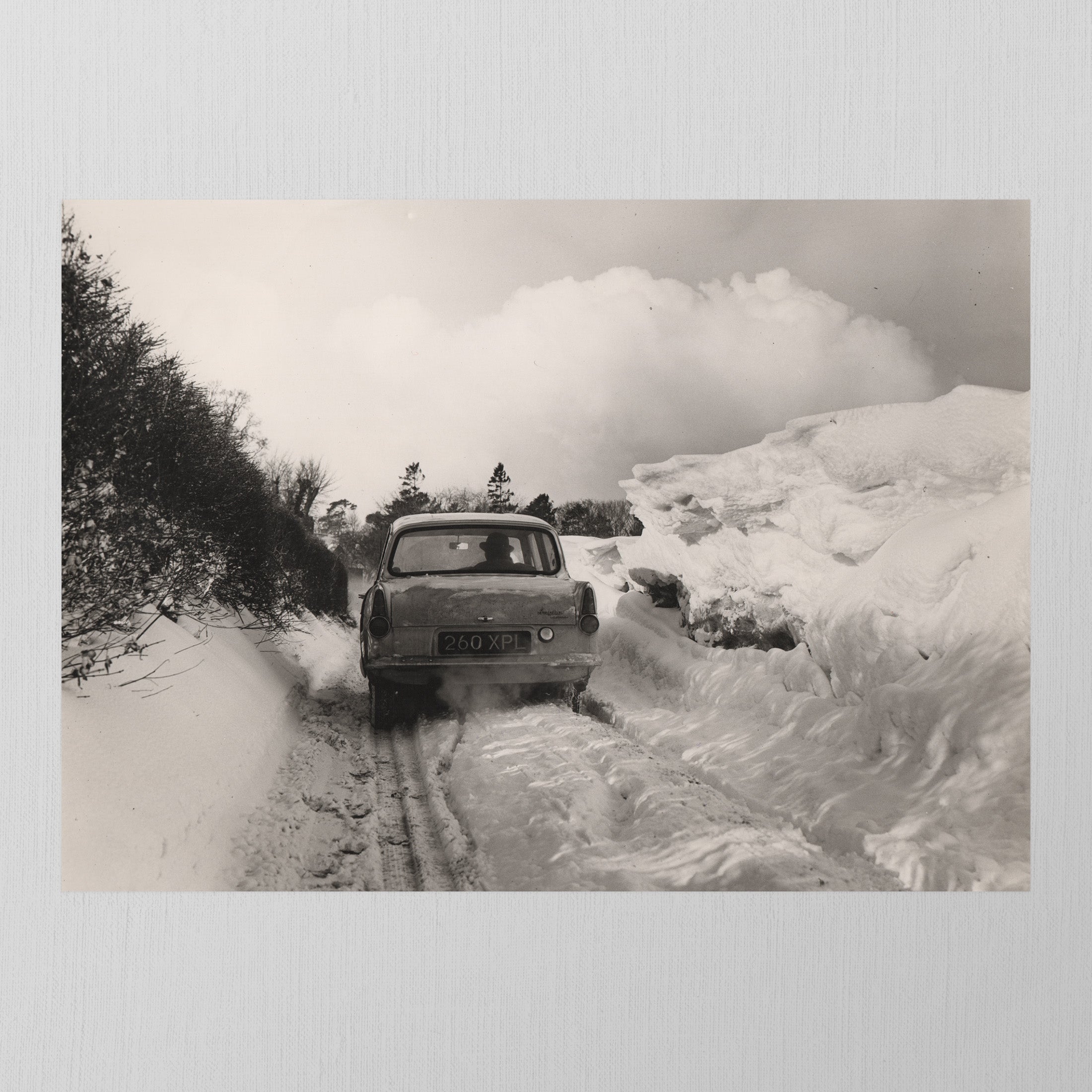 Print Sizes
| | | |
| --- | --- | --- |
|   | cm | in |
| AO | 118.9 x 84.1 | 46.8 x 33.1 |
| A2 | 59.4 x 42.0 | 23.4 x 16.5 |
| A3 | 42.0 x 29.7 | 16.5 x 11.7 |
| A4 | 29.7 x 21.0 | 11.7 x 8.3 |
We honour the past by restoring historical images to the same quality as the day they were created. To serve the artist's intent, we remaster, reconstruct, sharpen, colour-correct, colorize and enlarge their image with total devotion to historical authenticity. That makes your print a window to the past as it was. See for yourself.
Authenticity Assured

A Certificate of Authenticity marks every print as an original and genuine ColorGraph™.

Proudly Independent

We are proud to be an independent UK business sharing the stories hiding in images from the past.