Drink-O-Meter, 1937, Colorized
Regular price

Sale price

$46.00
Archival Giclée Art Print
Certificate of Authenticity
One Tree One Print Commitment
Open Edition
Worldwide Shipping
Free UK shipping on all orders over £100
Collectible museum-grade fine art print, hand-printed in England and individually finished with a monogram emboss. Each sale directly supports the artisan. Listed dimensions include a white border for easy framing.
---
ABOUT THIS PHOTOGRAPH

Cobbs Creek Drink-O-Meter

110°F Mint Julep: 1/4 bar spoon sugar. 3 sprigs mint. Fill glass 3/4 full of shaved ice. 1 Jigger Cobbs Creek.
100°F Bell Ringer: 1/2 Jigger of Cobbs Creek. 1/3 Jigger of French Vermouth. 1 bar spoon sugar. 1 dash of Angostura bitters. Ice, mix and strain into glass.
90°F Horse's Neck: Peel lemon into one long string. Put peel in tall glass so that one end hangs over edge. Add ice cubes and 1 measure of Cobbs Creek. Fill glass with ginger ale.
80°F Mint Smash: Lump of sugar in a little carbonated water. 4 sprigs mint, bruised with muddier. 1 cube ice. 1 Jigger Cobbs Creek. Add lemon peel and orange slices.
70°F Highball: Use a tall glass. Fill with ice. Add a measure as much as desired of Cobbs Creek. Add ginger ale or sparkling water, whichever you prefer.
60°F Whisky and Soda: Use a tall glass. Fill 3/4 full of cracked ice. Add a measure of Cobbs Creek. Fill glass with soda or carbonated water. Add lemon peel if desired.
40°F Manhattan: Fill large glass with ice. 2 dashes Angostura bitters. 1/3 Jigger Cobbs Creek. 1/3 Jigger Italian Vermouth. Stir and Strain. Serve in cocktail glass.
20°F Old Fashioned: Old-fashioned glass. Melt lump of sugar in a little water. 2 dashes each of Angostura, Orange bitters. 1 Jigger Cobbs Creek. 2 cubes of ice. Stir, add lemon peel.
Taken: November 1937
Location: Crosby, North Dakota, United States
Photographer: Russell Lee
Remaster & Colorization: Jordan J. Lloyd
Original Format: Negative nitrate
Commercial Use: ⇲ License this Image
PRINT CREDENTIALS

Presented on 315gsm Hahnemühle Photo Rag® Baryta; a pleasantly warm, pure cotton paper with subtle texture, providing excellent reproduction of colour and detail, deep blacks, and perfect contrasts.
ORIGINAL CAPTION

"Sign, Crosby, North Dakota."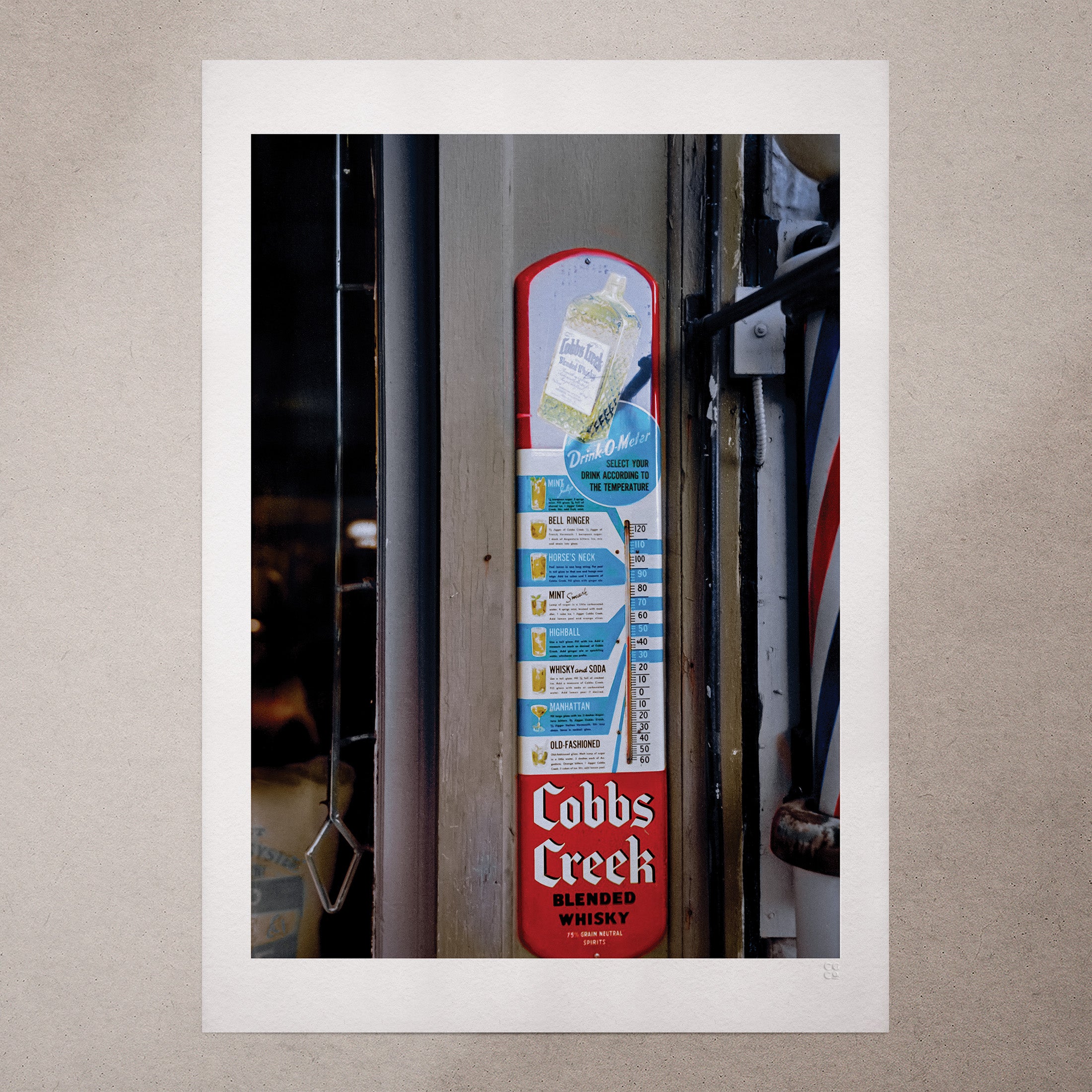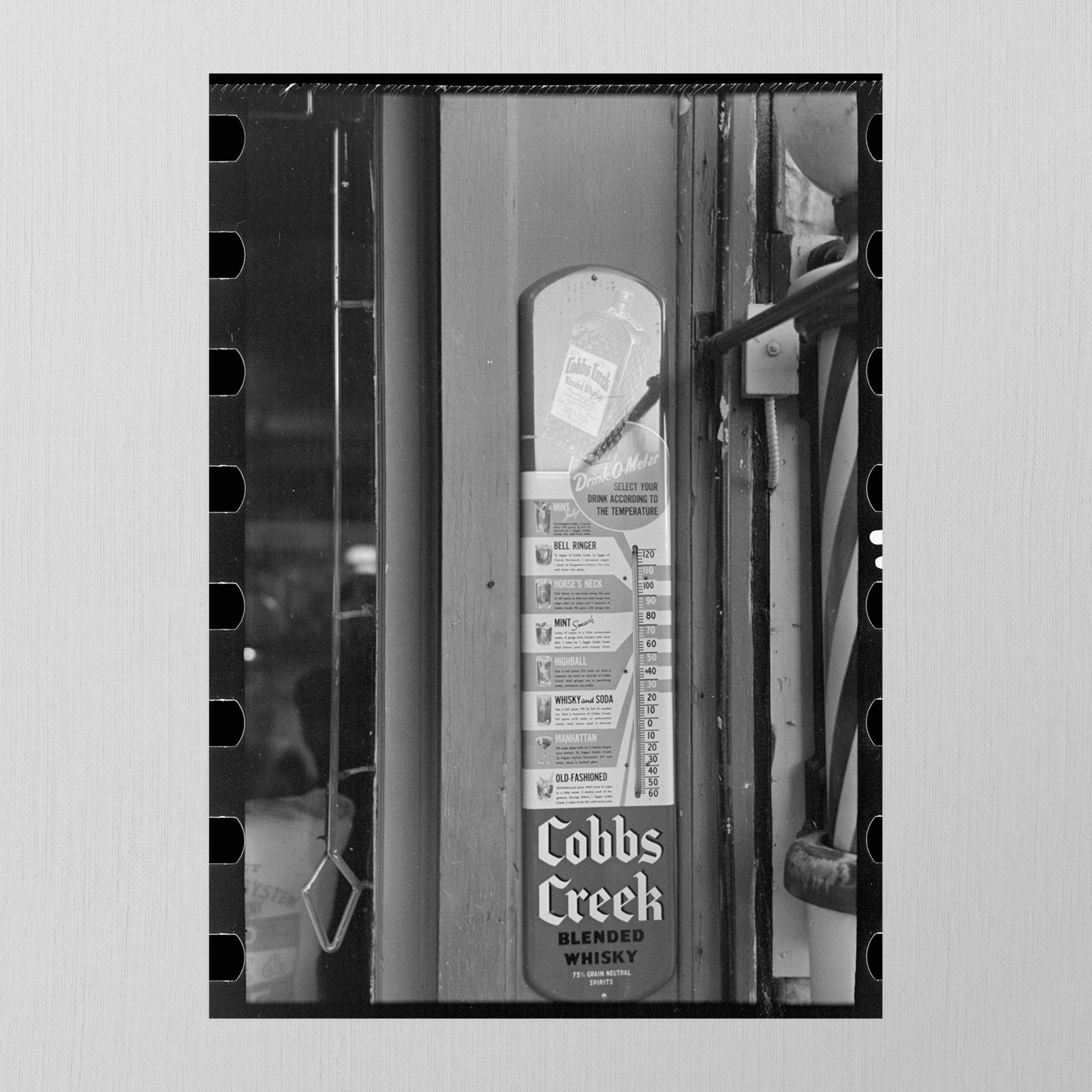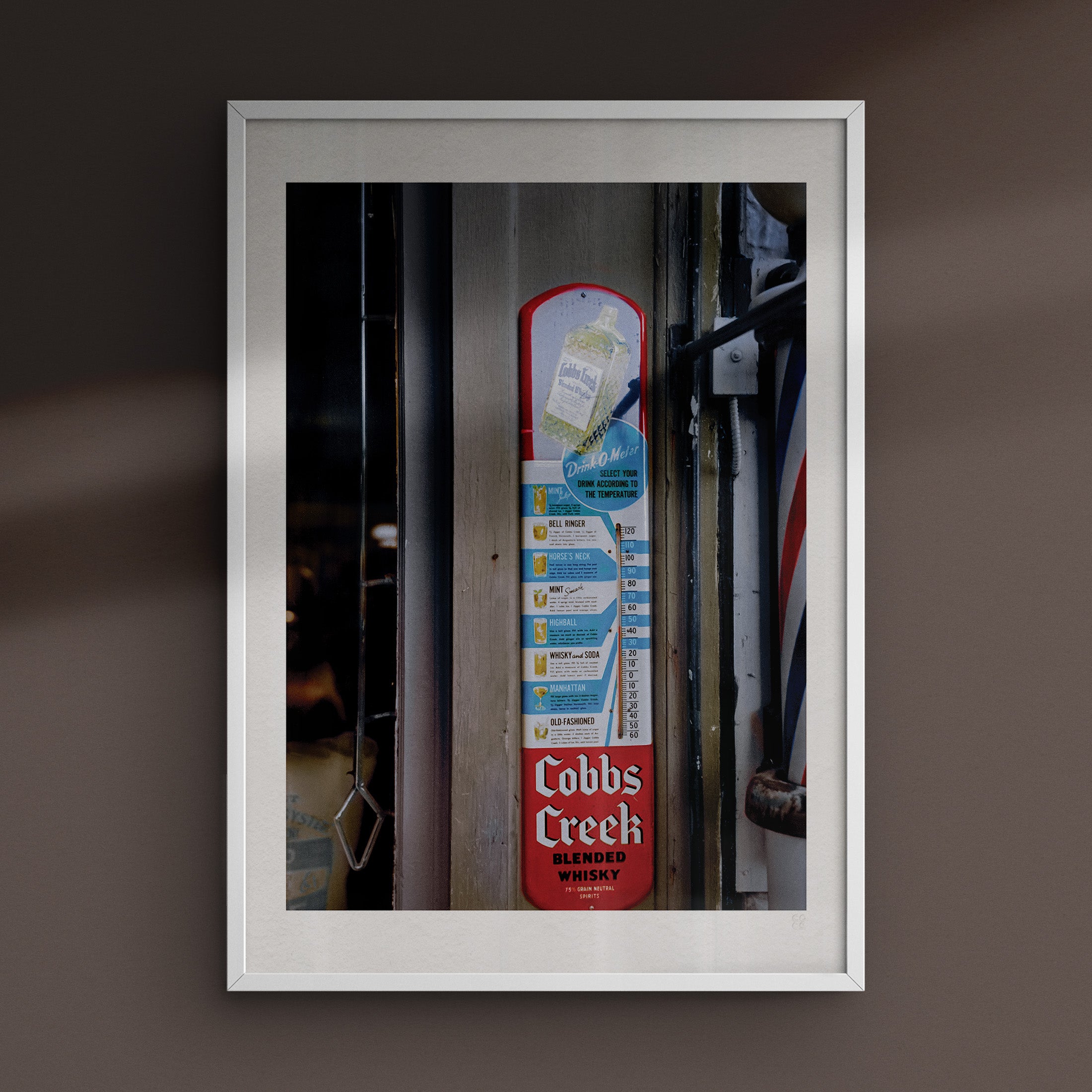 Print Sizes
| | | |
| --- | --- | --- |
|   | cm | in |
| AO | 118.9 x 84.1 | 46.8 x 33.1 |
| A2 | 59.4 x 42.0 | 23.4 x 16.5 |
| A3 | 42.0 x 29.7 | 16.5 x 11.7 |
| A4 | 29.7 x 21.0 | 11.7 x 8.3 |
We honour the past by restoring historical images to the same quality as the day they were created. To serve the artist's intent, we remaster, reconstruct, sharpen, colour-correct, colorize and enlarge their image with total devotion to historical authenticity. That makes your print a window to the past as it was. See for yourself.
Authenticity Assured

A Certificate of Authenticity marks every print as an original and genuine ColorGraph™.

Proudly Independent

We are proud to be an independent UK business sharing the stories hiding in images from the past.