Country Store by Dorothea Lange, 1939
Regular price

Sale price

$39.00
Archival Giclée Art Print
Certificate of Authenticity
One Tree One Print Commitment
Open Edition
Worldwide Shipping
Free UK shipping on all orders over £100
Collectible museum-grade fine art print, hand-printed in England and individually finished with a monogram emboss. Each sale directly supports the artisan. Listed dimensions include a white border for easy framing.
---
ABOUT THIS PHOTOGRAPH

A group of tobacco farmhands enjoys a drink on a Sunday in one of America's most iconic photographs. Rayney Baynes, standing in the doorway is covering for his brother Ivey who would shortly pass away a few months after this photograph was taken. The Rural Electricity Administration provided the electricity box as part of Roosevelt's New Deal, which meant the drinks were actually ice cold, a rare treat. In a deeply segregated America, it is refreshing to see both black and white Americans enjoying each others' company, no doubt a product of the Baynes brothers' service in the US armed services, where they both served with black American soldiers in World War 1. Ivey Baynes, not pictured, served on the USS Arizona, which went on to be destroyed the Japanese at Pearl Harbour, launching the United States into World War 2. Within two years, Dorothea Lange would be documenting the internment of Japanese Americans as a result of Pearl Harbour. – Jordan J. Lloyd
Taken: July, 1939
Location: Gordonton, North Carolina, United States
Photographer: Dorothea Lange
Remaster: Jordan J. Lloyd  
Original Format: Safety negative
Commercial Use: ⇲ License this Image
---
RELATED PRINT
This photograph is also available as a ⇲ restored & remastered colorized original print from our ⇲ ColorGraph Co. imprint.
PRINT CREDENTIALS

Presented on 315gsm Hahnemühle Photo Rag® Baryta; a pleasantly warm, pure cotton paper with subtle texture, providing excellent reproduction of colour and detail, deep blacks, and perfect contrasts.
ORIGINAL CAPTION

"Country store on dirt road. Sunday afternoon. Note the kerosene pump on the right and the gasoline pump on the left. Rough, unfinished timber posts have been used as supports for porch roof. Negro men are sitting on the porch. Brother of store owner stands in doorway. Gordonton, North Carolina."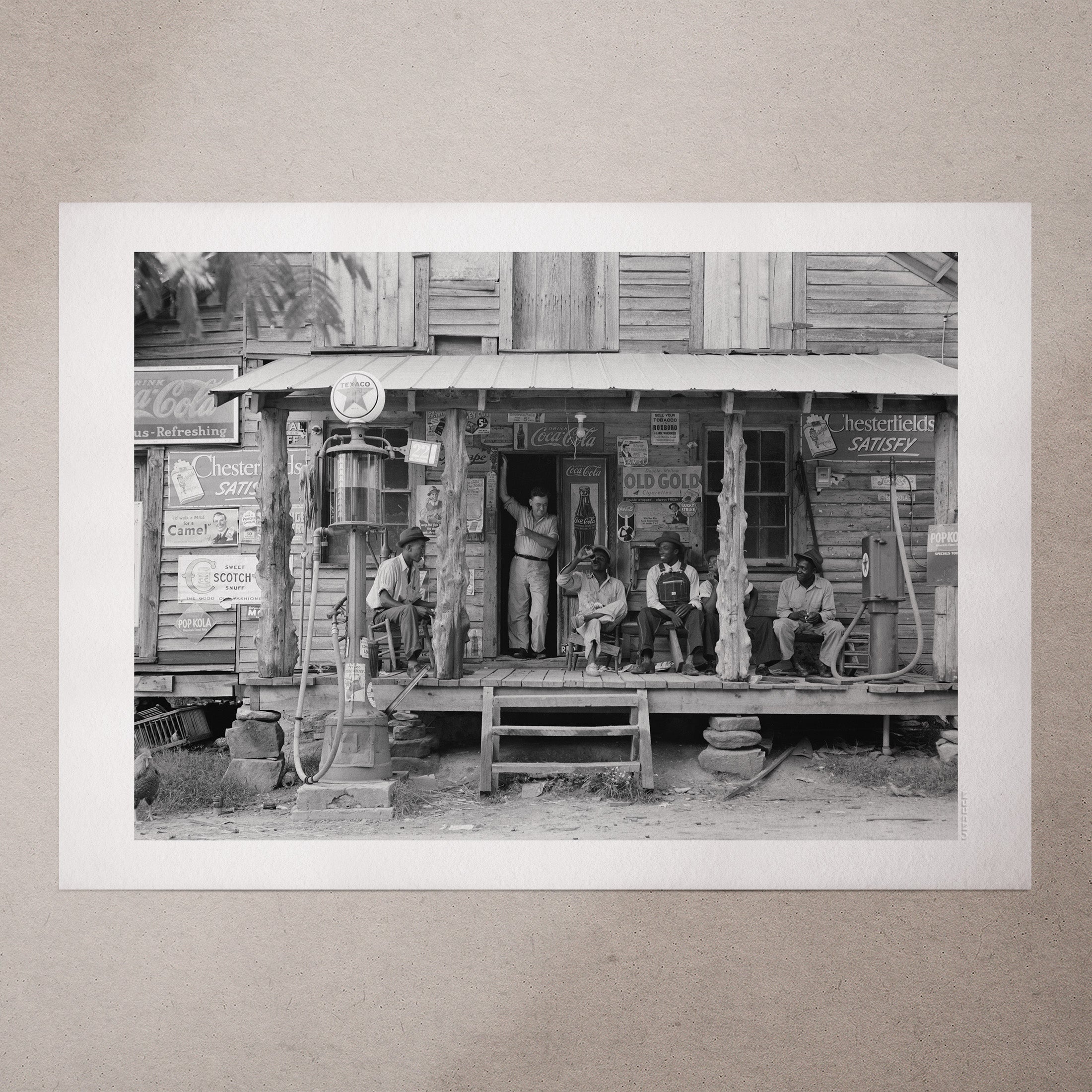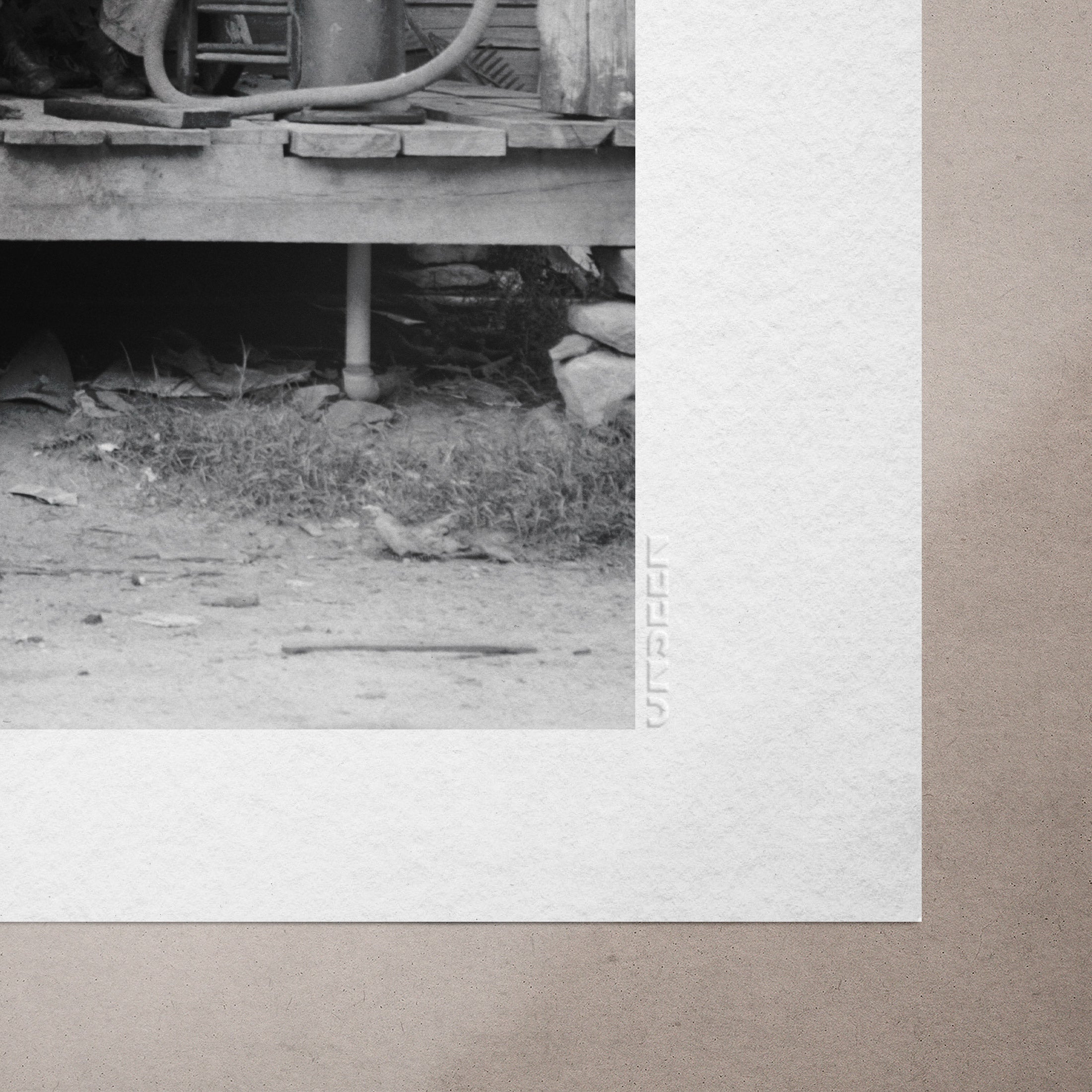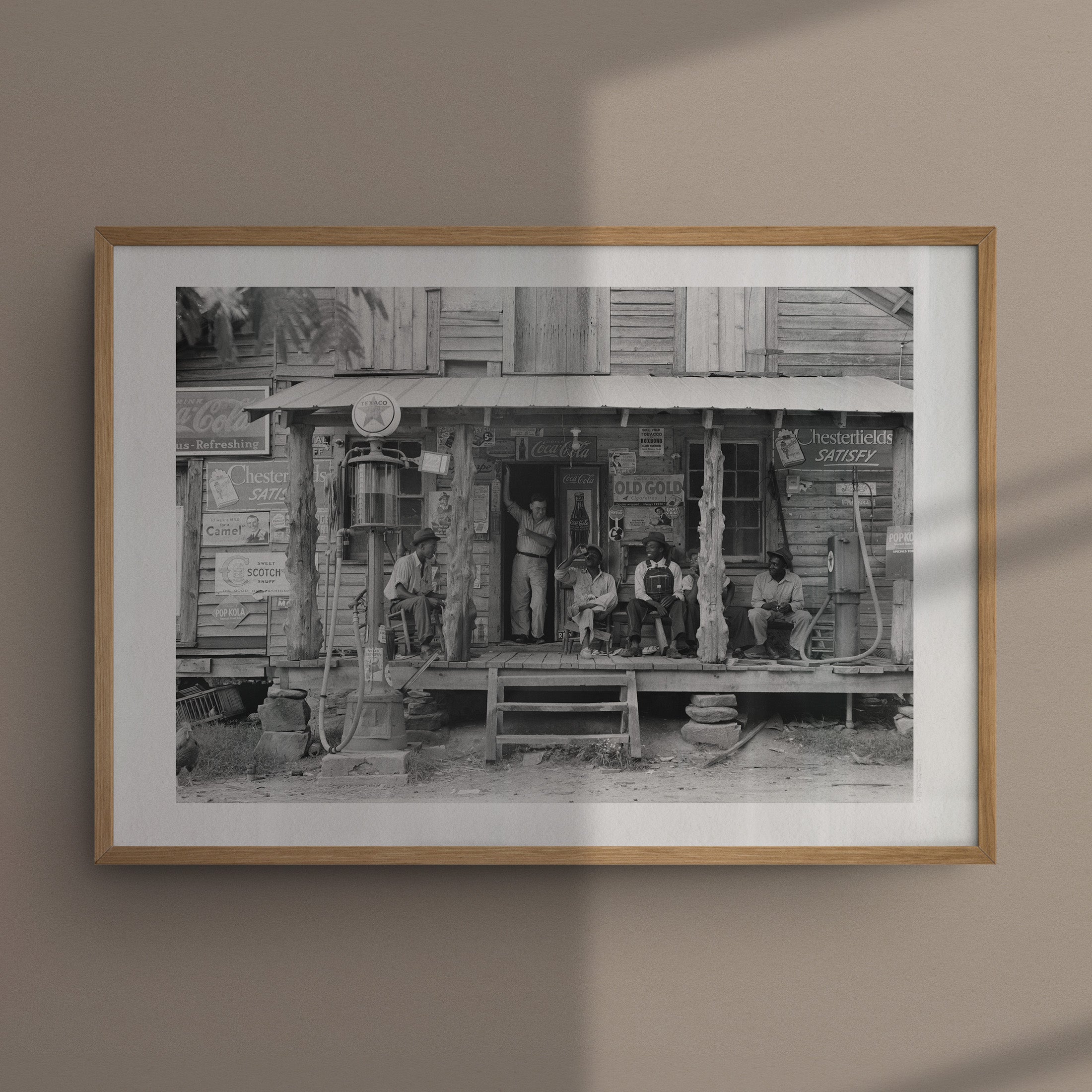 Print Sizes
| | | |
| --- | --- | --- |
|   | cm | in |
| AO | 118.9 x 84.1 | 46.8 x 33.1 |
| A2 | 59.4 x 42.0 | 23.4 x 16.5 |
| A3 | 42.0 x 29.7 | 16.5 x 11.7 |
| A4 | 29.7 x 21.0 | 11.7 x 8.3 |
Authenticity Assured

A Certificate of Authenticity marks every print as an original and genuine Platinum Series.

The Past Remastered

The Platinum Series features restored and remastered historical black and white images from world class archives.

Proudly Independent

We are proud to be an independent UK business sharing the stories hiding in images from the past.