Charles Darwin, 1874, Colorized
Regular price

Sale price

$46.00
Archival Giclée Art Print
Certificate of Authenticity
One Tree One Print Commitment
Open Edition
Worldwide Shipping
Free UK shipping on all orders over £100
Collectible museum-grade fine art print, hand-printed in England and individually finished with a monogram emboss. Each sale directly supports the artisan. Listed dimensions include a white border for easy framing.
---
ABOUT THIS PHOTOGRAPH

On April 19th 1882, Charles Darwin, aged 73, would die of heart failure at his home in Kent, England. The celebrated scientist and author of On the Origins of Species suffered from long bouts of illness in adult life; something, he wrote, "has annihilated several years of my life, has saved me from the distractions of society and amusement." Darwin's mystery illness remained undiagnosed, though modern speculation suggests that Darwin was infected with the parasite Trypanosoma cruzi; transmitted by a Kissing Bug (Triatominae) during an expedition in Argentina in the 1830s. Also known as the Vampire Bug for the manner in which they feed around people's mouths, transmission of T.cruzi may have led to Chagas Disease. Left untreated, the disease would lead to heart failure.
A recent conference in 2018 suggested that Darwin suffered from multiple ailments including Cyclic Vomiting Syndrome as well as infection by the bacterium Helicobacter pylori. Whatever the truth, Darwin documented his own symptoms in detail: "For 25 years extreme spasmodic daily & nightly flatulence: occasional vomiting, on two occasions prolonged during months. Vomiting preceded by shivering, hysterical crying, dying sensations or half-faint. & copious very pallid urine. Now vomiting & every paroxys[m] of flatulence preceded by singing of ears, rocking, treading on air & vision. focus & black dots – All fatigues, specially reading, brings on these Head symptoms." – Jordan J. Lloyd
Taken: 1874
Location: United Kingdom
Photographer: Leonard Darwin
Remaster & Colorization: Jordan J. Lloyd
Original Format: Photograph
Commercial Use: ⇲ License this Image
PRINT CREDENTIALS

Presented on 315gsm Hahnemühle Photo Rag® Baryta; a pleasantly warm, pure cotton paper with subtle texture, providing excellent reproduction of colour and detail, deep blacks, and perfect contrasts.
ORIGINAL CAPTION

"Darwin photo by Leonard from Woodall 1884."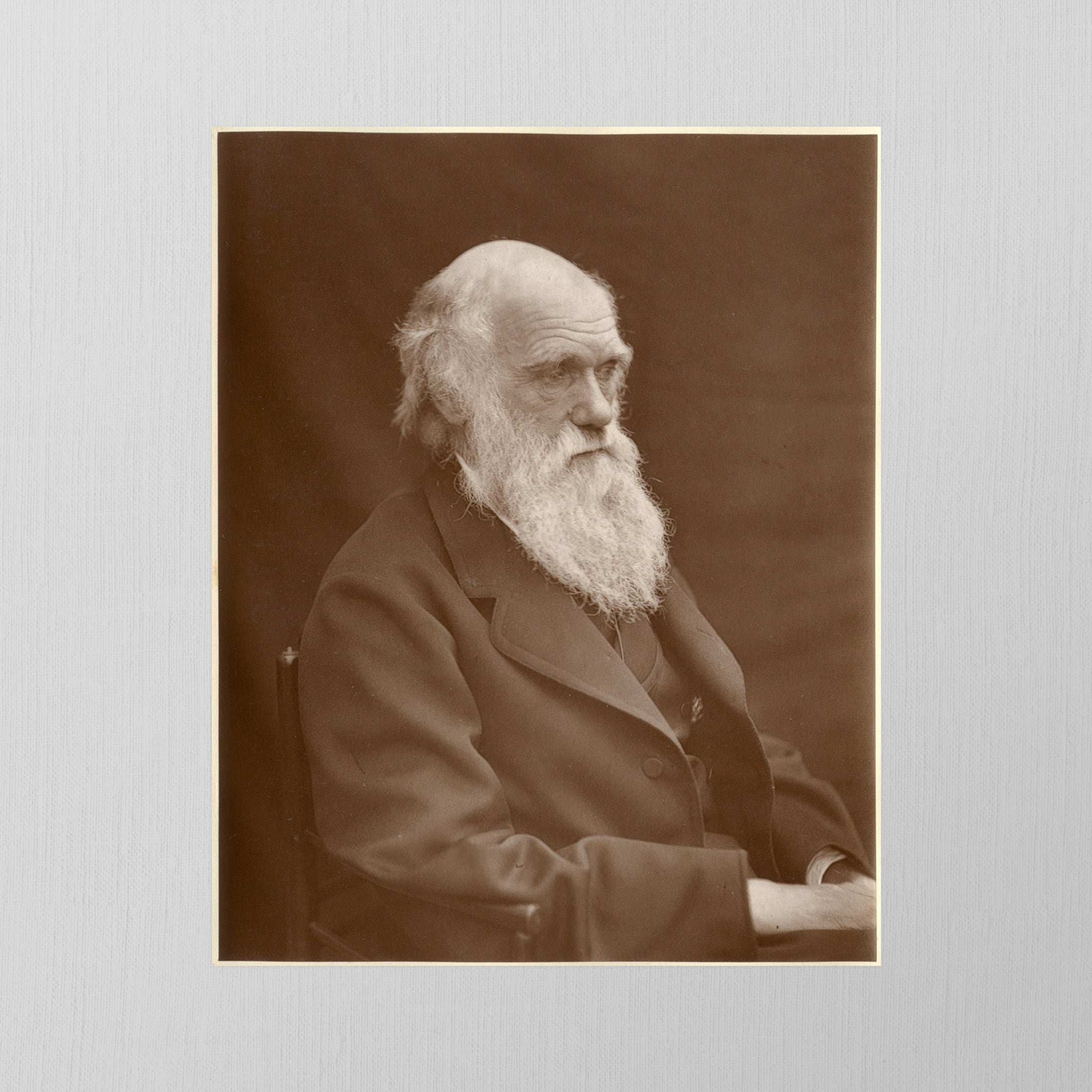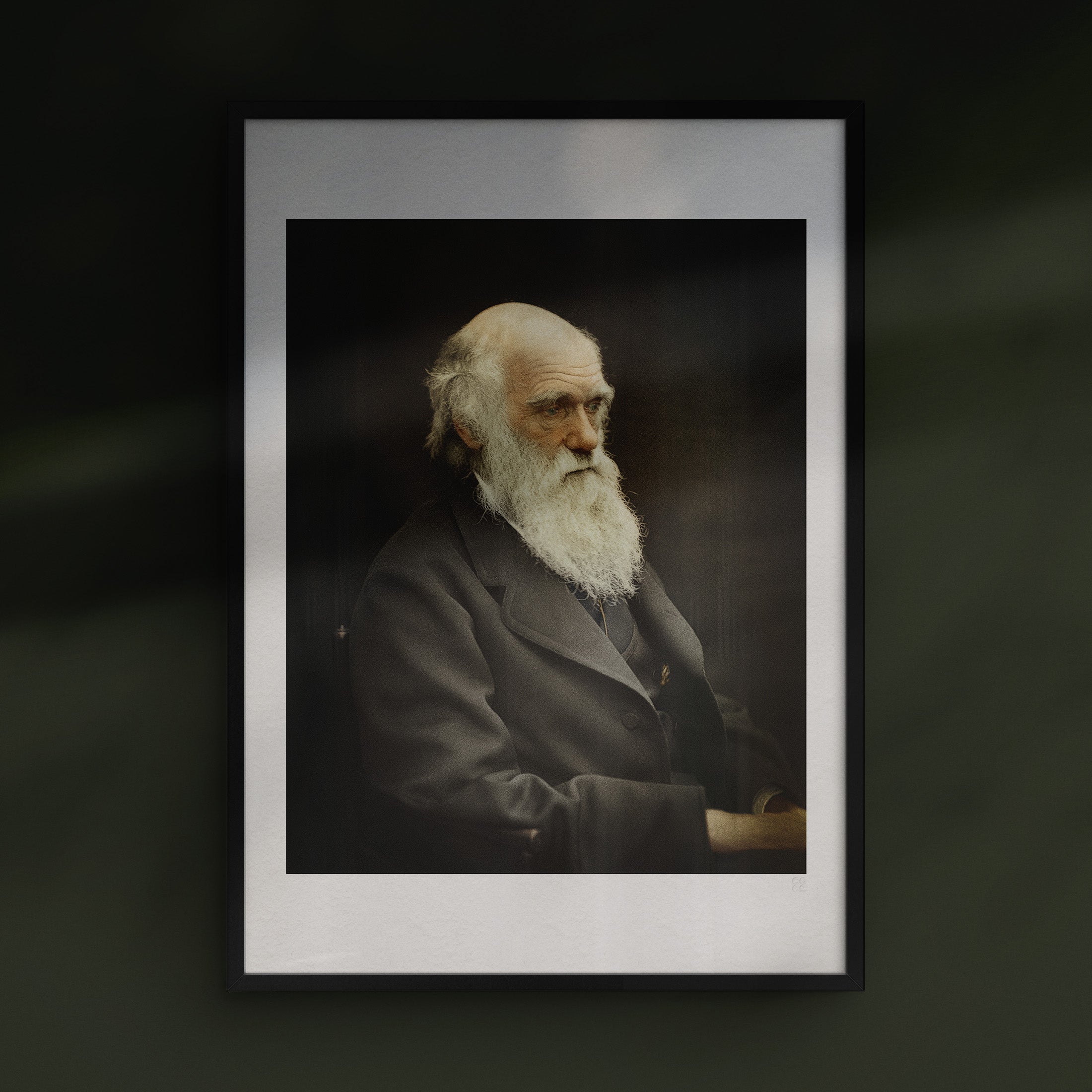 Print Sizes
| | | |
| --- | --- | --- |
|   | cm | in |
| AO | 118.9 x 84.1 | 46.8 x 33.1 |
| A2 | 59.4 x 42.0 | 23.4 x 16.5 |
| A3 | 42.0 x 29.7 | 16.5 x 11.7 |
| A4 | 29.7 x 21.0 | 11.7 x 8.3 |
We honour the past by restoring historical images to the same quality as the day they were created. To serve the artist's intent, we remaster, reconstruct, sharpen, colour-correct, colorize and enlarge their image with total devotion to historical authenticity. That makes your print a window to the past as it was. See for yourself.
Authenticity Assured

A Certificate of Authenticity marks every print as an original and genuine ColorGraph™.

Proudly Independent

We are proud to be an independent UK business sharing the stories hiding in images from the past.