NASA Wind Tunnel by NASA, 1950
Sizing Chart

| | | |
| --- | --- | --- |
|   | cm | in |
| AO | 118.9 x 84.1 | 46.8 x 33.1 |
| A2 | 59.4 x 42.0 | 23.4 x 16.5 |
| A3 | 42.0 x 29.7 | 16.5 x 11.7 |
| A4 | 29.7 x 21.0 | 11.7 x 8.3 |
Regular price

Sale price

$37.00
Archival Giclée Art Print
Certificate of Authenticity
One Tree One Print Commitment
Open Edition
Worldwide Shipping
Free UK shipping on all orders over £100
Collectible museum-grade fine art print, hand-printed in England and individually finished with a monogram emboss. Each sale directly supports the artisan. Listed dimensions include a white border for easy framing.
---
ABOUT THIS PHOTOGRAPH

This print was produced exclusively for the podcast Travels Through Time, a mixture of serious history and playful parlour game.
A collaboration with the Travels Through Time podcast and Guardian Faber to celebrate the release of Stuart Clark's book, Beneath the Night, available now. I was really drawn to the brilliant composition and the shadows. Even though the colour scheme looks simple and monochromatic, it was surprisingly difficult to get variation enough that looked natural. I managed to find a real colour photograph of the same wind turbine for reference. – Jordan J. Lloyd
Taken: March 15th, 1950
Location: Langley Research Center, Virginia, United States
Photographer: NASA
Remaster: Jordan J. Lloyd
Original Format: Negative
Commercial Use: ⇲ License this Image
---
RELATED PRINT
This photograph is also available as a ⇲ restored & remastered colorized original print from our ⇲ ColorGraph Co. imprint.
PRINT CREDENTIALS

Presented on 315gsm Hahnemühle Photo Rag® Baryta; a pleasantly warm, pure cotton paper with subtle texture, providing excellent reproduction of colour and detail, deep blacks, and perfect contrasts.
ORIGINAL CAPTION

"Guide vanes in the 19 foot Pressure Wind Tunnel at Langley Aeronautical Laboratory, National Advisory Committee for Aeronautics, form an ellipse 33 feet high and 47 feet wide. The 23 vanes force the air to turn corners smoothly as it rushes through the giant passages. If vanes were omitted, the air would pile up in dense masses along the outside curves, like water rounding a bend in a fast brook. Turbulent eddies would interfere with the wind tunnel tests, which require a steady flow of fast, smooth air."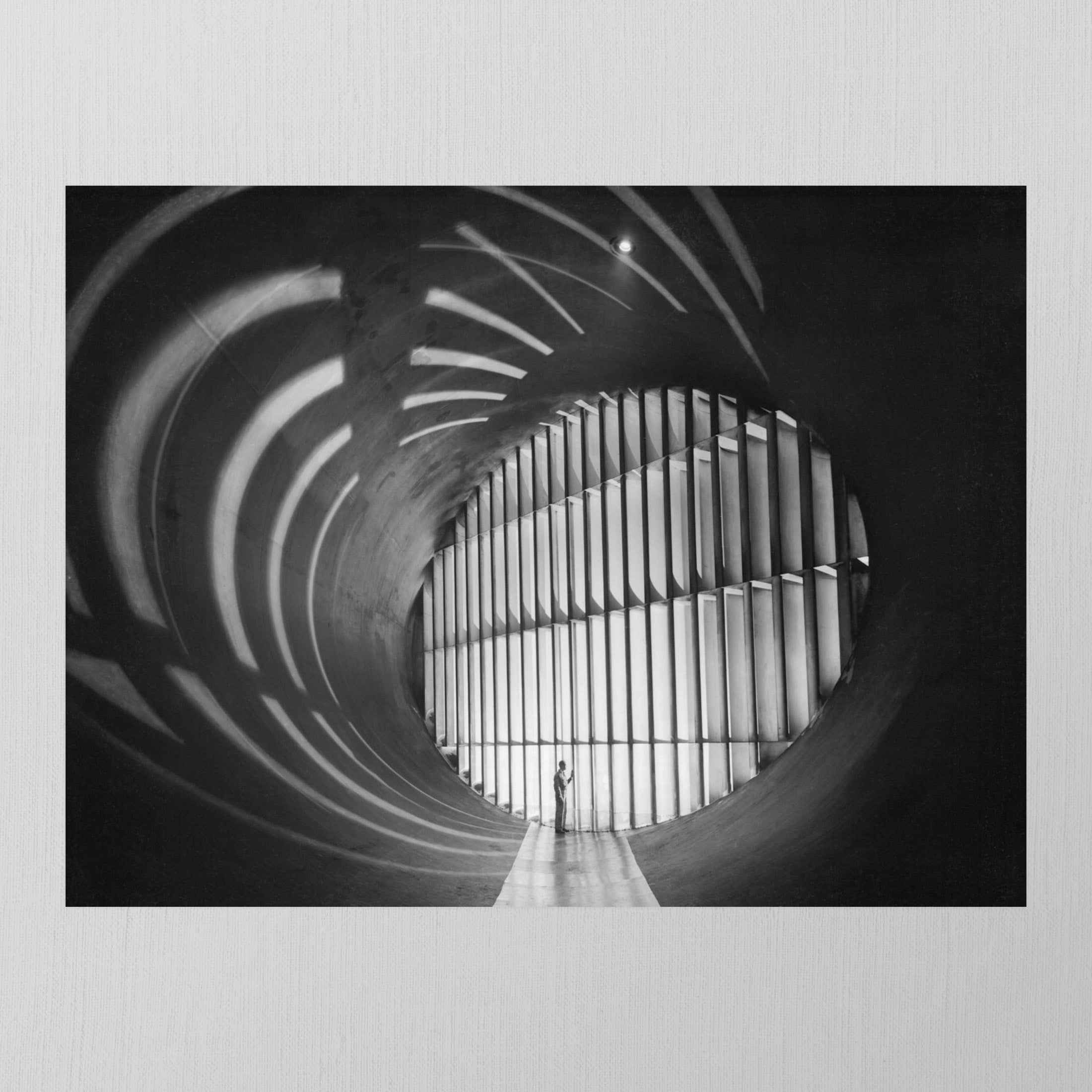 Authenticity Assured

A Certificate of Authenticity marks every print as an original and genuine Platinum Series.

The Past Remastered

The Platinum Series features restored and remastered historical black and white images from world class archives.

Proudly Independent

We are proud to be an independent UK business sharing the stories hiding in images from the past.